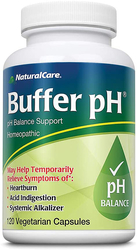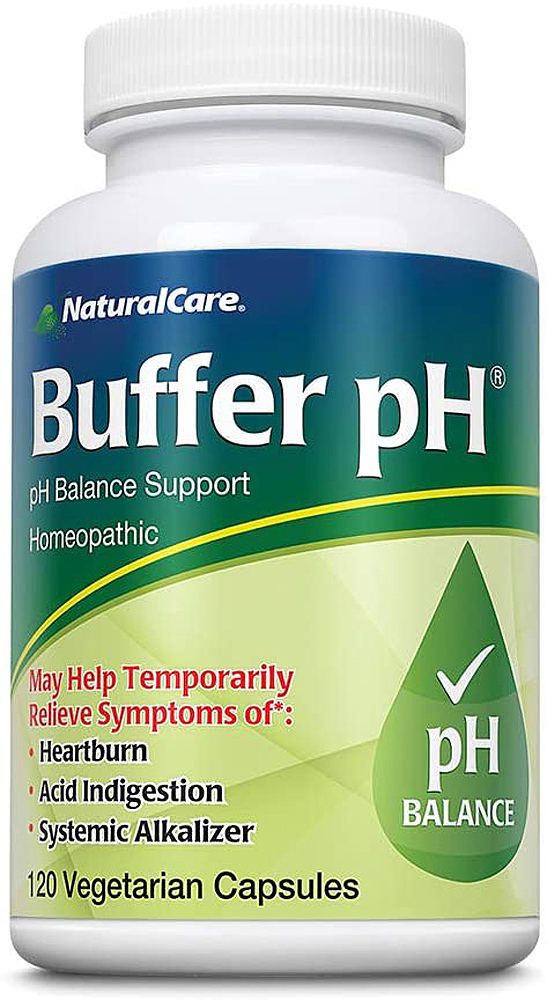 Buffer pH Homeopathic, 120 Vegetarian Capsules
Our Price:
$19.99
(42% Off)
Active Ingredients
Ingredients:
Chamomilla, Rheum, Robinia Pseudoacacia 3X, 6X, 12X HPUS; Natrum Phosphoricum, Natrum Sulfuricum, Natrum Muriaticum, Kali Carbonicum, Kali Oxalicum, Kali Phosphoricum, Kali Muriaticum at 6X, 12X HPUS; Kali Sulfuricum, Magnesia Phosphorica at 8X, 12X HPUS; Nux Vomica 3C, 6C, 12C HPUS; Graphites 6C, 12C HPUS.†
Other ingredients: Aloe Vera Powder, Berberine Alkaloid, Calcium Carbonate (from eggshells), Cucumber Powder, Dextrose, Potassium Bicarbonate, Rice Flour, Sodium Bicarbonate, Vegetable Capsule (cellulose).
Directions:
Adults take 2 capsules daily or as needed on an empty stomach until urine pH tests between 6.5 and 7.5. Continuing use: Take 2 capsules daily as needed. Do not exceed 6 capsules per day.
Claims:
Claims are based only on theories of homeopathy from the 1700s that are not accepted by most modern medical experts. There may be no scientific evidence that this product works.
†The letters 'HPUS' indicate that the components in this product are officially monographed in the homeopathic Pharmacopoeia of the United States.
WARNING:
Not for use in children under age of 12. Or take as directed by a physician. Keep out of reach of children. Contains Sodium: Ask a physician before use if you have a sodium-restricted diet. Do not take this product if you are pregnant or breast-feeding. If symptoms persist or worsen consult a physician. Do not use the maximum dosage for more than 2 weeks except under the advice of a physician. In case of overdose, get medical help or contact a Poison Control Center right away. Store in a cool, dry place.