L-Cysteine, 500 mg, 100 Quick Release Capsules, 2 Bottles
3773<h2><strong>What is L-Cysteine?</strong></h2> <p>Cysteine is a non-essential sulfur amino acid, which is found in most high-protein foods such as yogurt, cheese, eggs, turkey, and legumes. It is widely recognized as a conditionally essential amino that plays an important role in protein synthesis and helps support a healthy balance of amino acid, glutathione.** It also found in beta-keratin. This is the main protein found in hair, skin, and nails.</p> <h2><strong>Supplementing with L-Cysteine</strong></h2> <p>Cysteine may be found in a variety of protein-rich foods, but often this does not offer an adequate supply. A supplement is important for those who are not receiving an abundance of protein in their diet such as vegans or vegetarians. Finding a trusted source of supplementation is the most important aspect of support dietary needs.</p> <h2><strong>PipingRock Features</strong></h2> <p>- L-Cysteine (500 mg)</p> <p>- Free Form Supplement</p> <p>- Gluten-Free &amp; Non-GMO</p> <p>- No Artificial Color, Sweetener</p> <p>- Quick-Release Capsules</p> <p>PipingRock, L-Cysteine Supplement offers a powerful 500 mg daily serving for optimal support. Free-form quick-release capsules provide just what you need, amino acids with no competing nutrients. Our formula is gluten-free, non-GMO and contains no artificial colors, sweetener, or preservatives. Experience the power of superior purity and potency by choosing PipingRock L-Cysteine today!</p>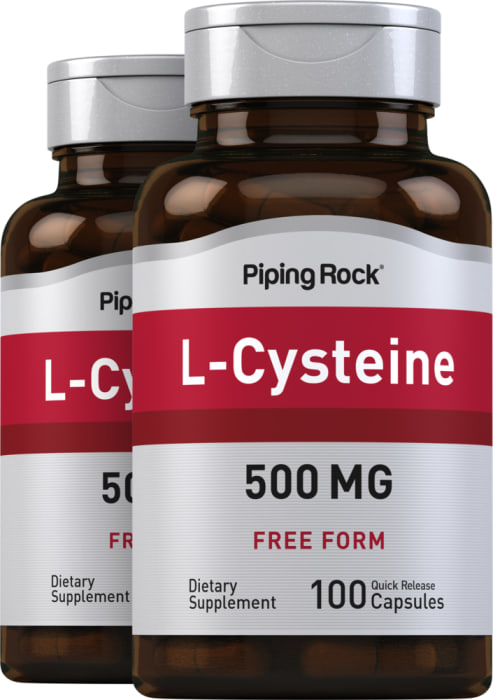 Roll over image to zoom in
L-Cysteine, 500 mg, 100 Quick Release Capsules, 2 Bottles
3773<h2><strong>What is L-Cysteine?</strong></h2> <p>Cysteine is a non-essential sulfur amino acid, which is found in most high-protein foods such as yogurt, cheese, eggs, turkey, and legumes. It is widely recognized as a conditionally essential amino that plays an important role in protein synthesis and helps support a healthy balance of amino acid, glutathione.** It also found in beta-keratin. This is the main protein found in hair, skin, and nails.</p> <h2><strong>Supplementing with L-Cysteine</strong></h2> <p>Cysteine may be found in a variety of protein-rich foods, but often this does not offer an adequate supply. A supplement is important for those who are not receiving an abundance of protein in their diet such as vegans or vegetarians. Finding a trusted source of supplementation is the most important aspect of support dietary needs.</p> <h2><strong>PipingRock Features</strong></h2> <p>- L-Cysteine (500 mg)</p> <p>- Free Form Supplement</p> <p>- Gluten-Free &amp; Non-GMO</p> <p>- No Artificial Color, Sweetener</p> <p>- Quick-Release Capsules</p> <p>PipingRock, L-Cysteine Supplement offers a powerful 500 mg daily serving for optimal support. Free-form quick-release capsules provide just what you need, amino acids with no competing nutrients. Our formula is gluten-free, non-GMO and contains no artificial colors, sweetener, or preservatives. Experience the power of superior purity and potency by choosing PipingRock L-Cysteine today!</p>
Size:
2 Bottles | 100 Quick Release Capsules
- In Stock
Quantity
No Gluten

Non-GMO

No Soy

No Artificial Color

No Artificial Flavor

No Artificial Sweetener
More Information
What is L-Cysteine?
Cysteine is a non-essential sulfur amino acid, which is found in most high-protein foods such as yogurt, cheese, eggs, turkey, and legumes. It is widely recognized as a conditionally essential amino that plays an important role in protein synthesis and helps support a healthy balance of amino acid, glutathione.** It also found in beta-keratin. This is the main protein found in hair, skin, and nails.
Supplementing with L-Cysteine
Cysteine may be found in a variety of protein-rich foods, but often this does not offer an adequate supply. A supplement is important for those who are not receiving an abundance of protein in their diet such as vegans or vegetarians. Finding a trusted source of supplementation is the most important aspect of support dietary needs.
PipingRock Features
- L-Cysteine (500 mg)
- Free Form Supplement
- Gluten-Free & Non-GMO
- No Artificial Color, Sweetener
- Quick-Release Capsules
PipingRock, L-Cysteine Supplement offers a powerful 500 mg daily serving for optimal support. Free-form quick-release capsules provide just what you need, amino acids with no competing nutrients. Our formula is gluten-free, non-GMO and contains no artificial colors, sweetener, or preservatives. Experience the power of superior purity and potency by choosing PipingRock L-Cysteine today!
Supplement Facts
Serving Size:
1 Quick Release Capsule
Servings Per Container:
100
Amount
Per Serving
% Daily
Value
(DV)
L-Cysteine (Free Form)
500 mg
*
Other ingredients:
Gelatin Capsule, Dicalcium Phosphate, Vegetable Magnesium Stearate, Silica
Directions:
For adults, take 1 quick release capsule 1 to 2 times daily, preferably on an empty stomach.
WARNING:
If you are pregnant, nursing, taking any medications or have any medical condition, consult your healthcare professional before using this or any other nutritional supplement. If any adverse reactions occur, immediately stop using this product and consult your doctor. If seal under cap is damaged or missing, do not use. Keep out of reach of children. Store in a cool, dry place.
* Daily Value (DV) not established.
PipingRock's Passion for Quality is Backed by In-house Advanced Analytical Testing
PipingRock guarantees the highest quality because we design, manufacture, and test our supplements in our own state-of-the-art facilities.

Non-GMO Promise
At PipingRock, your health is our #1 priority. Genetically Modified Organisms (GMOs) are present in many dietary supplements, even though they have not yet proven safe for long-term consumption. PipingRock's commitment to bringing you safe, natural, premium-quality ingredients only does not allow for GMO uncertainty.
100% Satisfaction Guaranteed
We stand behind the quality in our products. If you are unhappy with your PipingRock product for any reason we will issue a full refund in accordance to our Return policy.
L-Cysteine, 500 mg, 100 Quick Release Capsules, 2 Bottles
3773<h2><strong>What is L-Cysteine?</strong></h2> <p>Cysteine is a non-essential sulfur amino acid, which is found in most high-protein foods such as yogurt, cheese, eggs, turkey, and legumes. It is widely recognized as a conditionally essential amino that plays an important role in protein synthesis and helps support a healthy balance of amino acid, glutathione.** It also found in beta-keratin. This is the main protein found in hair, skin, and nails.</p> <h2><strong>Supplementing with L-Cysteine</strong></h2> <p>Cysteine may be found in a variety of protein-rich foods, but often this does not offer an adequate supply. A supplement is important for those who are not receiving an abundance of protein in their diet such as vegans or vegetarians. Finding a trusted source of supplementation is the most important aspect of support dietary needs.</p> <h2><strong>PipingRock Features</strong></h2> <p>- L-Cysteine (500 mg)</p> <p>- Free Form Supplement</p> <p>- Gluten-Free &amp; Non-GMO</p> <p>- No Artificial Color, Sweetener</p> <p>- Quick-Release Capsules</p> <p>PipingRock, L-Cysteine Supplement offers a powerful 500 mg daily serving for optimal support. Free-form quick-release capsules provide just what you need, amino acids with no competing nutrients. Our formula is gluten-free, non-GMO and contains no artificial colors, sweetener, or preservatives. Experience the power of superior purity and potency by choosing PipingRock L-Cysteine today!</p>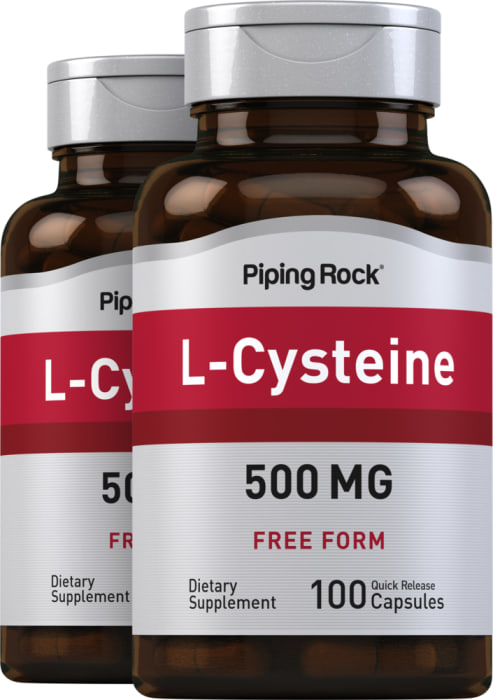 L-Cysteine, 500 mg, 100 Quick Release Capsules, 2 Bottles
3773<h2><strong>What is L-Cysteine?</strong></h2> <p>Cysteine is a non-essential sulfur amino acid, which is found in most high-protein foods such as yogurt, cheese, eggs, turkey, and legumes. It is widely recognized as a conditionally essential amino that plays an important role in protein synthesis and helps support a healthy balance of amino acid, glutathione.** It also found in beta-keratin. This is the main protein found in hair, skin, and nails.</p> <h2><strong>Supplementing with L-Cysteine</strong></h2> <p>Cysteine may be found in a variety of protein-rich foods, but often this does not offer an adequate supply. A supplement is important for those who are not receiving an abundance of protein in their diet such as vegans or vegetarians. Finding a trusted source of supplementation is the most important aspect of support dietary needs.</p> <h2><strong>PipingRock Features</strong></h2> <p>- L-Cysteine (500 mg)</p> <p>- Free Form Supplement</p> <p>- Gluten-Free &amp; Non-GMO</p> <p>- No Artificial Color, Sweetener</p> <p>- Quick-Release Capsules</p> <p>PipingRock, L-Cysteine Supplement offers a powerful 500 mg daily serving for optimal support. Free-form quick-release capsules provide just what you need, amino acids with no competing nutrients. Our formula is gluten-free, non-GMO and contains no artificial colors, sweetener, or preservatives. Experience the power of superior purity and potency by choosing PipingRock L-Cysteine today!</p>
Size:
2 Bottles | 100 Quick Release Capsules
- In Stock
Quantity
PipingRock.com
1-4 of 4 customer reviews
Alma Julia
Alma JuliaAlma Julia
May 26, 2022
Reviews 191
Vote 37
Gender Female
Age 35 to 44
Recomend
RecomendRecomend
@anonymous
@anonymous@anonymous
Sep 19, 2021
Reviews 44
Vote 7
katrininka
katrininkakatrininka
Aug 24, 2021
Reviews 10
Vote 3
Sith
SithSith
Apr 13, 2020
Reviews 189
Vote 33