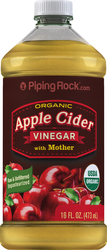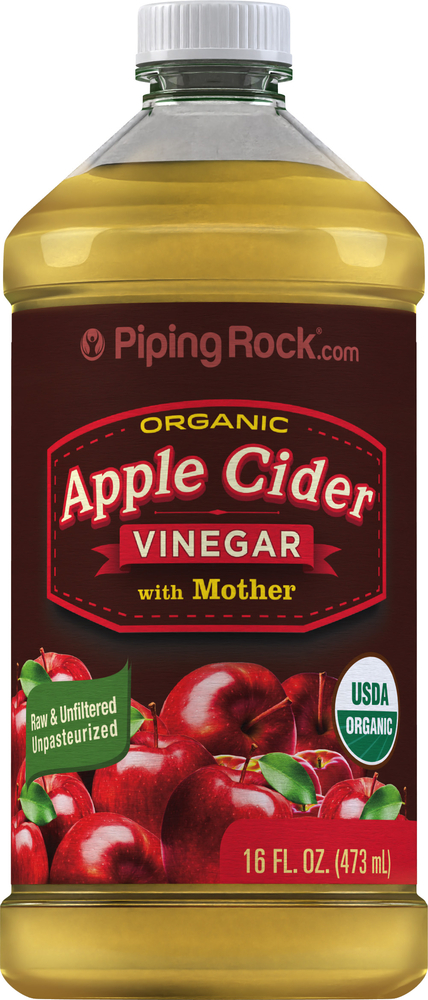 Apple Cider Vinegar w/Mother (Organic), 16 fl oz (473 mL) Bottle
Our Price:
$3.99
(25% Off)
What is Apple Cider Vinegar?
The process of creating apple cider vinegar is one that has been around for thousands of years. Apples are crushed and combined with yeast and sugar, then fermented into alcohol. From here, the substance undergoes another fermentation until it becomes a sour vinegar. This tangy substance has been used in natural wellness traditions for thousands of years, dating as far back as Hippocrates in 400 B.C.!
What is "Mother"?
"Mother" refers to the cloudy substance found in organic apple cider vinegar formed by naturally occurring pectin. It contains enzymes and minerals and is formed naturally by the bacteria in unpasteurized, raw vinegar.
What does Apple Cider Vinegar do?
Made from organically grown apples, PipingRock's Organic Apple Cider Vinegar with Mother is unfiltered and unpasteurized, just the way nature intended. Each serving supplies a potent nutritional profile, rich in nutrients such as folic acid, potassium, calcium, B-vitamins, iron & vitamin C. This versatile substance can be used in both internal and external applications to support your healthy lifestyle!
Used as a beauty product, apple cider vinegar can be applied as a conditioner for hair to keep it soft, shiny, and healthy. Use on the skin to help encourage skin health and a bright, clear complexion!
PipingRock's Organic Apple Cider Vinegar with Mother is packaged in BPA-free plastic bottles.