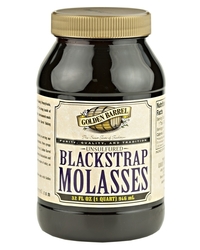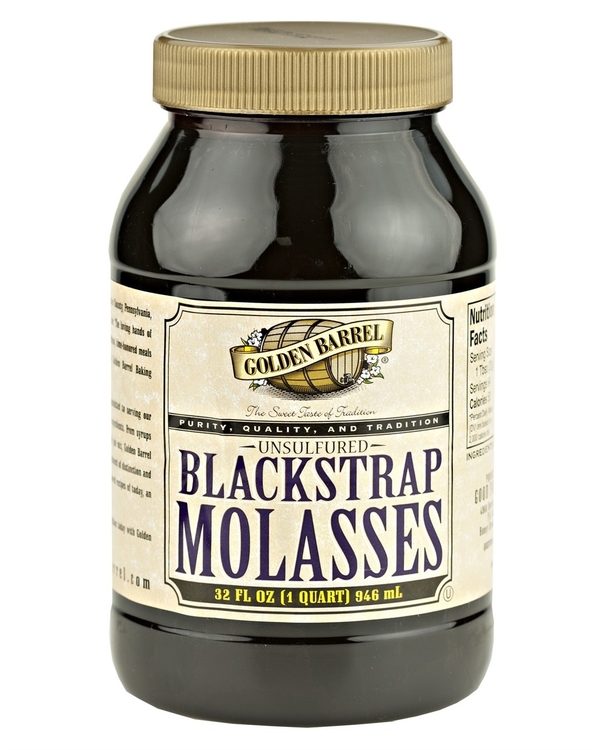 Blackstrap Molasses, 32 fl oz (946 mL) Bottle
Our Price:
$5.99
(25% Off)
Nutrition Facts
Serving Size:
1 Tbsp (15 mL)
Servings Per Container:
64
Amount
Per Serving
% Daily
Value
(DV)
Calories
60
Total Fat
0 g
0%
Saturated Fat
0 g
0%
Trans Fat
0 g
0%
Cholesterol
0 mg
0%
Total Carbohydrate
14 g
5%
Dietary Fiber
0 g
0%
Total Sugars

Includes 10g Added Sugars

10 g
20%
Protein
1 g
Vitamin D
-
0%
Calcium
-
12%
Iron
-
11%
Sodium
15 mg
1%
Potassium
-
8%
Directions:
Used in baking as a sugar substitute and as a healthy supplement, blackstrap molasses is slightly more nutritious than other varieties and has an intense robust flavor and dark color. Golden Barrel Blackstrap Molasses is a good source of natural iron, calcium, magnesium, and potassium.
Other Information:
Golden Barrel sulfur-free blackstrap molasses the result of a process in which sugar syrup is boiled three times in order to create a rich, robust flavor. This molasses, unlike refined sugar, is packed with flavor and minerals such as calcium, magnesium, potassium, and iron. Long sold as a dietary supplement, one tablespoon of blackstrap molasses provides up to 20% of the daily value of each nutrient previously listed!
Using blackstrap molasses allows you to give a healthy, semi-sweet flavor to dishes like gingerbread, muffins, pies and more, or add the perfect viscosity to baked beans, chili, and other savory sauces. Golden Barrel offers the highest quality baking products made from the finest ingredients. This richly flavored, unsulfured, and highly nutritional blackstrap molasses.