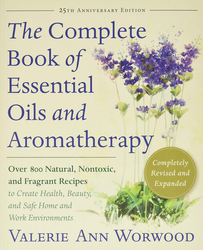 The Complete Book of Essential Oils and Aromatherapy, 682 Pages, 1 Book
Our Price:
$17.99
(25% Off)
- Over 800 natural, non-toxic & fragrant recipes
- Includes complete charts of essential oils & their uses
- Featuring a resource guide & directions for aromatherapy massage
To Create Health, Beauty & Safe Home Environment
This encyclopedic book contains, in a practical and easy-to-understand form, every conceivable use for essential oils and aromatherapy in everyday life. The author, a practicing aromatherapist for more than twenty years, unlocks the power of essential oils in more than 800 recipes, most needing only a few essential oils. Unlike over-the-counter products, the recipes you make yourself contain no harmful preservatives. Most basic needs can be covered with just ten essential oils.
The Complete Book of Essential Oils & Aromatherapy includes complete charts of all essential oils and their uses, a resource guide, and directions for massage. Valerie Ann Worwood is an aromatherapist, a reflexologist, a member of the London and counties society of Physiologists, and as Chairman of Research is an active member of the International Federation of Aromatherapists.