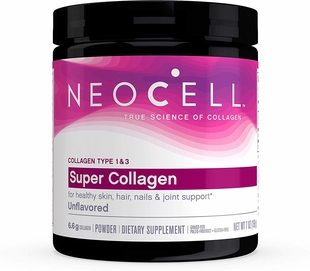 Super Collagen Powder Type I & III, 7 oz (198 g) Bottle
Our Price:
$12.99
(25% Off)
Nutrition Facts
Serving Size:
1 Scoop (6.6 grams)
Servings Per Container:
30
Amount
Per Serving
% Daily
Value
(DV)
Calories
22
Collagen Type 1 & 3
6.6 g
0%
Total Carbohydrates
0 g
0%
Total Fat
0 g
0%
These Values represent average grams of amino acid per 100 grams of edible portion and may vary
Glycine 22.80%
Proline 13.80%
Hydroxyproline 13.00%
Glutamic Acid 9.50%
Alanine 8.50%
Arginine 7.90%
Aspartic Acid 5.70%
Lysine 4.20%
Serine 3.30%
Leucine 2.90%
Valine 2.40%
Phenylalanine 2.00%
Threonine 1.90%
Isoleucine 1.30%
Methionine 0.78%
Histidine 0.77%
Hydroxylysine 0.70%
Tyrosine 0.40%
Cystine 0.08%
Other Ingredients:
Super Collagen Protein derived from pharmaceutical food grade collagen.
Contains no sucrose, starch, yeast, wheat, corn, gluten, cholesterol, fat or dairy products.
Directions:
As a daily dietary supplement, dissolve one scoop of Super Collagen Dietary Supplement with one spoon of water or orange juice then add 6-8 ounces or more liquid, and stir vigorously or use blender for best results. For optimum nutritional benefits, drink as suggested on an empty stomach. Wait 30 minutes before eating. For optimum results use with hyaluronic acid.
WARNING:
Note: Super Collagen is not a complete protein and should not be used to replace a dietary protein supplement.
Keep out of reach of children.
Other Information:
This product is sold by weight not volume. Some setting may occur during shipment.