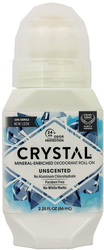 Crystal Body Deodorant Roll-On, 2.25 fl oz (66 mL) Bottle
Our Price:
$3.29
(23% Off)
- Made of Natural Mineral Salts
- Prevents Body Odor by Creating a Protective Barrier Against Odor-Causing Bacteria
- Non-Sticky, Non-Staining, Leaves No White Residue
Natural deodorant protection
Crystal Body Deodorant ™ is made of Natural Mineral Salts which prevent body odor by creating an invisible protective barrier against odor-causing bacteria. It is non-sticky, non-staining, leaves no white residue and can be used by both men and women.
This natural deodorant is safe for the environment, was not tested on animals, is hypoallergenic and contains no fragrance, aluminum chlorohydrate or parabens.