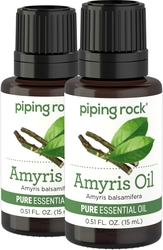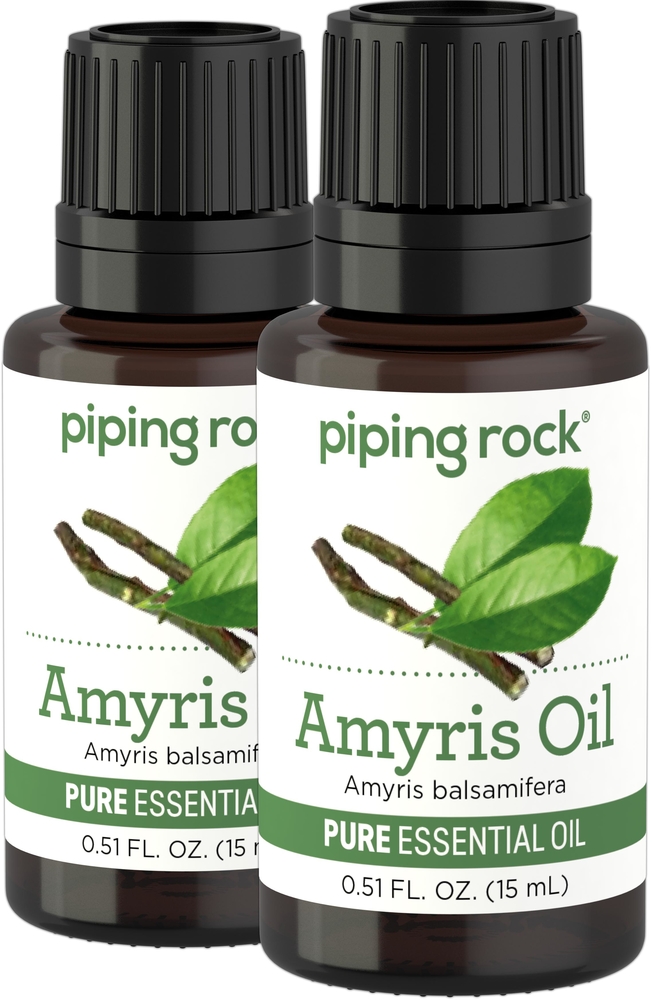 Amyris Pure Essential Oil (GC/MS Tested), 1/2 fl oz (15 mL) Dropper Bottle, 2 Dropper Bottles
Our Price:
$12.49
(25% Off)
Originating in North America, amyris is a flowering shrub that was mistaken for sandalwood until the late 19th century. Along with other plants that have high resin content, amyris is commonly referred to as a "torchwood" or "candlewood" due to its essential oil-saturated wood, which burns like a candle! Amyris bears an earthy, balsamic fragrance, and is regularly used as a grounding bottom note in perfumes, as well as soaps and other beauty products.
Plant Part Used
Wood
Extraction Method
Steam distillation
Aroma
Medium. Warm, woody and slightly sweet.
Benefits
Calming, soothing and relaxing. Great for entering states of meditation and calm repose. Helps ease occasional tension and stress.
Blends Well With
Cedarwood, Citronella, Cypress, Ginger, Jasmine, Lavender, Lemon, Orange, Rosemary, Rosewood, Sandalwood, Ylang Ylang
History of Amyris
Believed to be sandalwood up to the late 1880s, amyris shares much with its fellow fragrant woody plant, though it has a pleasantly dry and subtle aroma of its own. Its lightly lingering scent makes it a perfect base for perfumes and incense, and contributes to its popularity as an aid in meditation. Additionally, it can help ward off creepy crawlies thanks to one of its key components, elemol. Warm, earthy and inviting, amyris, with its sweet and balsamic qualities, is ideal for those seeking moments of calmness and clarity.
Using Amyris Oil
All essential oil blends are for aromatherapy use only and are not for ingesting!
Bothersome Bugs
Burn this oil blend to help keep the creepy-crawly pesks away!
4 drops Amyris Oil
4 drops Citronella Oil
4 drops Lavender Oil
The Inner Light
Gaze into the candle's flame, and find the peaceful, meditative light inside your heart.
4 drops Amyris Oil
2 drops Myrrh Oil
2 drops Rosemary Oil
2 drops Jasmine Oil
Aromatherapy Uses
Bath & Shower
Add 5-10 drops to hot bath water, or sprinkle into shower steam before stepping in for an at-home spa experience.
Massage
8-10 drops of essential oil per 1 ounce of carrier oil. Apply a small amount directly to areas of concern, such as muscles, skin or joints. Work the oil gently into the skin until it is fully absorbed.
Inhalation
Inhale the aromatic vapors directly from the bottle, or place a few drops in a burner or diffuser to fill a room with its scent.
DIY Projects
This oil can be used in your homemade DIY projects, such as in candles, soaps, and body care products!
Our PipingRock Promise
We proudly offer you everything you need for your daily aromatherapy routine at the best value in the industry! From essential oils to carrier oils, fragrance oils, diffusers, blending bottles, books, and more, we have you covered. Enjoy various essential oil blends, sprays, and experience our revitalizing, botanical massage oils. With hundreds of essential oils to choose from, you can now create homemade scents and beauty products!
PipingRock Quality
You have found the finest source for aromatherapy products at PipingRock. Our exceptional essentials oils are crafted in our own GMP (Good Manufacturing Practice) certified facilities and verified with third-party, FDA-registered agencies to ensure quality and purity. We utilize special GC/MS (Gas Chromatography/Mass Spectrometry) testing to meet strict purity standards and superior standards of excellence. We guarantee outstanding purity, potency, safety, and innovation with every product we manufacture.