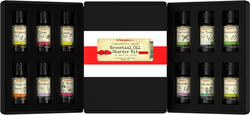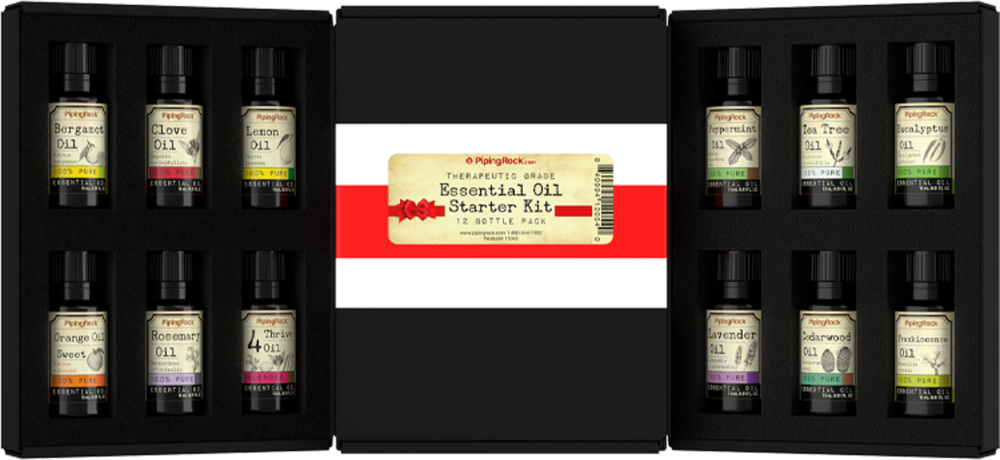 Essential Oil Starter Kit – Pure (GC/MS Tested), 12 Bottles
Our Price:
$42.99
(25% Off)
Temporarily Out of Stock
Please check back soon
Start your Aromatherapy Experience!
Stimulate your senses using natural plant-based essential oils. Our 12 bottle essential oil gift pack has all the most popular oils that you want for your wellness needs. This set is great if you like to create homemade candles, soaps, and other crafts with essential oils. You can either use the oils individually or create unique scents by combining them. If you are looking to start your essential oil journey these scents are a diverse mix you will love, or you can share the aroma and gift to a loved one.
Our 12 Bottle Essential Oil Starter Kit includes the following oils in 15 mL glass amber bottles with dropper tops:
Lemon Oil- Zesty-sweet, tart aroma
Rosemary Oil- Crisp, piney aroma
Orange Oil Sweet- Tangy, sweet aroma
4 Thrive Oil- Spicy and earthy aroma, with notes of licorice
Clove Oil- Darkly earthy and bittersweet-spicy aroma
Bergamot Oil- Appealing floral and citrus aroma
Eucalyptus Oil- Bright, crisp, full-bodied aroma
Frankincense Oil- Lemony-sweet aroma with hints of warm balsamic
Peppermint Oil- Bold, minty aroma
Lavender Oil- Floral aroma with woody undertones
Tea Tree Oil- Woody, fresh aroma
Cedarwood Oil- Woody and sweet aroma