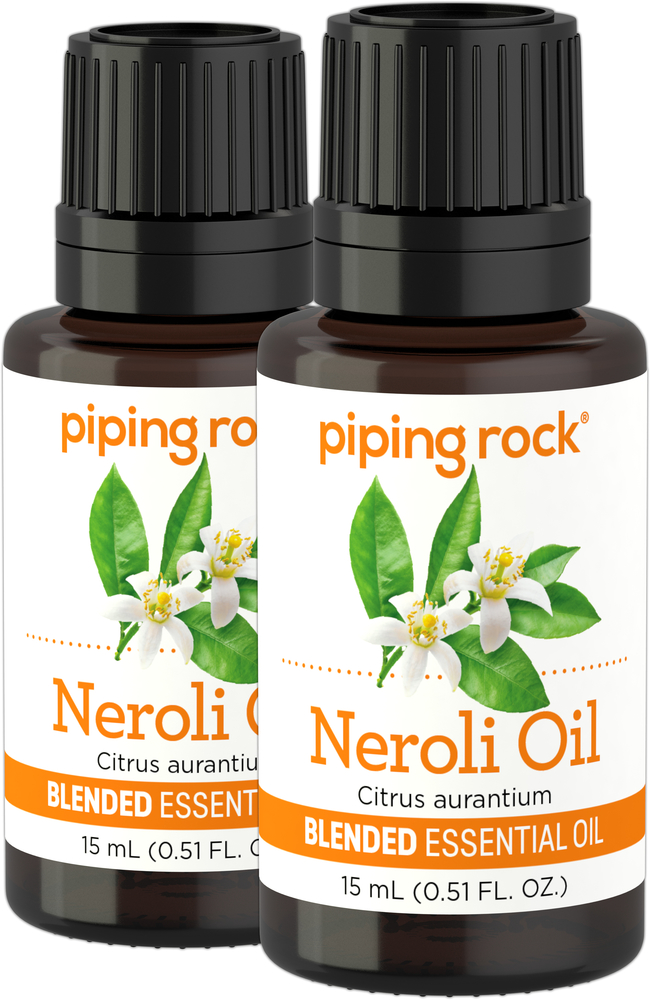 Click image to zoom in
Neroli Essential Oil Blend, 1/2 fl oz (15 mL) Dropper Bottle, 2 Dropper Bottles
Our Price:
$12.89
(25% Off)

With an ideal proprietary blend of Neroli essential oil and sweet almond oil, our Neroli Blend "mellows" the orange blossom's potent scent to an ideal level for therapeutic applications. Try our Neroli Blend as an uplifting addition to a relaxing bath, or apply Neroli Blend topically to help rejuvenate dry, tired skin. Our convenient Neroli Blend bottle is also perfect as a purse-sized, grab-and-go perfume.
Plant Part Used
Flowers
Extraction Method
Steam distillation
Aroma
Medium. Light and sweetly floral.
Benefits
Uplifts emotions and moods. Helps ease occasional stress. Enhances confidence and sharpens mental focus. Supports healthy, clear & youthful-looking skin.
Blends Well With
Chamomile, Clary Sage, Coriander, Frankincense, Geranium, Ginger, Grapefruit, Jasmine, Juniper, Lavender, Lemon, Mandarin, Myrrh, Orange, Rose, Sandalwood, Ylang Ylang
History of Neroli Blend
It takes 1,000 pounds of neroli blossoms to make one pound of prized neroli essential oil. The highly concentrated oil can be pricey and strong, which has led to the popularity of neroli blend products for aromatherapy and beyond. Neroli blends well with other fragrances, and is combined with other botanicals in high-end perfumes, colognes, and anti-aging skin serums.
Neutral-scented sweet almond oil preseves neroli's bright fragrance notes, allowing its calming scent to predominate. Cold pressed from the nuts of the Prunus amygdalus dulcis tree, nutrient-rich sweet almond oil has emollient and wellness-promoting properties that work wonders on skin.
Using Neroli Blended Oil
This essential oil blend is for aromatherapy use only and is not for ingesting!
Bath & Shower
Add 5-10 drops to hot bath water, or sprinkle into shower steam before getting in for an at-home spa experience.
Massage
8-10 drops of essential oil per 1 ounce of carrier oil. Apply a small amount directly to areas of concern, such as muscles, skin or joints. Work the oil gently into the skin until it is fully absorbed.
Inhalation
Inhale the aromatic vapors directly from the bottle, or place a few drops in a burner or diffuser to fill a room with its scent.
DIY Projects
This oil can be used in your homemade DIY projects, such as candles, soaps and other body care products!
Piping Rock's Promise:
We proudly offer you everything you need for an advanced, daily Aromatherapy regiment at the lowest cost in the industry! From Essential Oils to Carrier Oils, Diffusers to Blending Bottles, Beeswax, Books & more, we have you covered. With over 100 Essential Oils to choose from, you can create your own homemade scents and beauty products. Enjoy various blends & Essential Oils Sprays or experience our revitalizing, botanical Massage Oils!
About Piping Rock's Quality:
You've found your One-Stop-Shop for Aromatherapy products at Piping Rock. Our Essentials Oils are crafted in our own "GMP Certified" manufacturing facilities. We verify Piping Rock products with third-party, FDA-registered agencies to ensure quality. Each product goes through hundreds of checks, in-process and post-production. Our outstanding Essential Oils are GCMS tested to deliver guaranteed purity. We offer various 100% Pure Essentials along with other popular, unique blends. We guarantee purity, potency, safety and innovation in everything we do.
Other Sizes
Related Products