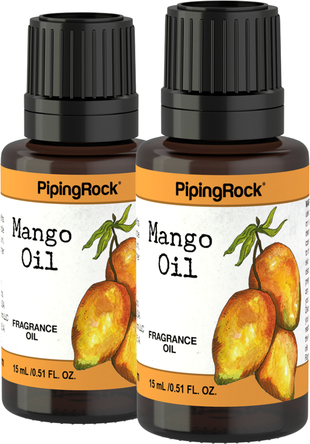 Mango Fragrance Oil, 1/2 fl oz (15 mL) Dropper Bottle, 2 Dropper Bottles
Known by many as the King of Fruits, mangoes are one of the most widely cultivated and exported fruits in the world, used for food, juicing, flavoring, coloring and fragrance applications. One experience with these bright, colorful fruits and you'll quickly understand! We've captured the lush, tropical scent of mangoes in this versatile oil, so you can bring the delicious aroma of this natural mango fragrance oil to your homemade products!
Fragrance
Fresh, green, slightly fruity fragrance with just a touch of sweetness and notes of citrus
Flash Point
206°F
History of Mango
The national fruit of India (where they are also native), mangoes hold a significant place in the culture of the area. It's said that the 16th century Mughal Emperor Akbar planted a mango orchard with 100,000 trees in Eastern India. The protector goddess Ambika, of the Indian Jainism religion, is often portrayed sitting beneath a mango tree. A deity with 4 arms, she carries a mango and a branch of the mango tree in her right arms.
How to Use Mango Fragrance Oil
Bring the tropical, succulent aroma of a freshly sliced mango to your candle making, incense, potpourri, soaps, deodorants and other bath and body products!
To learn how to make your own unique homemade candles, check out this simple step-by-step on The Pipe Line!
Other Sizes

Related Products