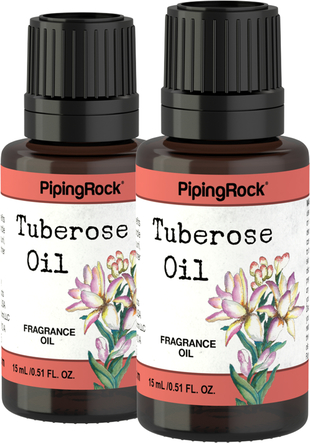 Tuberose Fragrance Oil, 1/2 fl oz (15 mL) Dropper Bottle, 2 Dropper Bottles
Let your next product come into bloom with our Tuberose Fragrance Oil! A heady, intoxicating aroma, our tuberose oil transports you to the tropics, where the creamy floral aroma of these small, white, waxy flowers fills the air as they blossom in the moonlight. Create a luxurious floral bouquet when you combine our tuberose fragrance oil with other florals such as jasmine and gardenia!
Fragrance
An exotic, deeply floral scent with delectable creamy undertones
Flash Point
220°F
History of Tuberose
The seductive flowers of Polianthes tuberosa have captivated the senses of people around the world since ancient times. The Victorians frowned upon young ladies smelling tuberose when they bloom at night, fearing the sensual aroma of the flowers. In Hawaii, tuberose flowers can be found gracing bridal bouquets and leis, filling the air with their exotic scent for days to come…
How to Use Tuberose Fragrance Oil
Add the lush aroma of tuberose fragrance oil to your candle making, incense, potpourri, soaps, deodorants and other bath and body products!
To learn how to make your own unique homemade candles, check out this simple step-by-step on The Pipe Line!
Other Sizes

Related Products