Violet Fragrance Oil, 1/2 fl oz (15 mL) Dropper Bottle
The violet is quite a familiar flower, sporting lovely purple blooms that thrive in the temperate climates of the Northern Hemisphere. They are members of the viola genus, of which there are nearly 600 species of this bright, happy flower. When smelling the flirty, floral aroma of violet fragrance oil, allow your mind to drift, as it is naturally drawn to a midsummer dream of sitting amongst a field of these wild, aromatic blossoms…
Fragrance
Delicate & floral in scent, with notes of earthiness
Flash Point
224.6°F
History of Violet
Taking a journey along the Mediterranean, where centuries of culture and human appreciation for nature has thrived, you will find yourself passing fields of violets. What was once the symbol for ancient Athens has become a fragrant must-have in perfumery. With a notably flirty scent, the aroma of violets is said to come and go, enticing the senses to desire the floral bouquet more and more and elating them once the scent has been graciously rediscovered.
How to Use Violet Fragrance Oil
Enjoy the floral scent of violet fragrance oil in candle making, incense, potpourri, soaps, deodorants and other bath and body products!
To learn how to make your own unique homemade candles, check out this simple step-by-step on The Pipe Line!
Other Sizes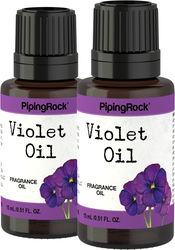 Related Products