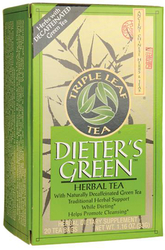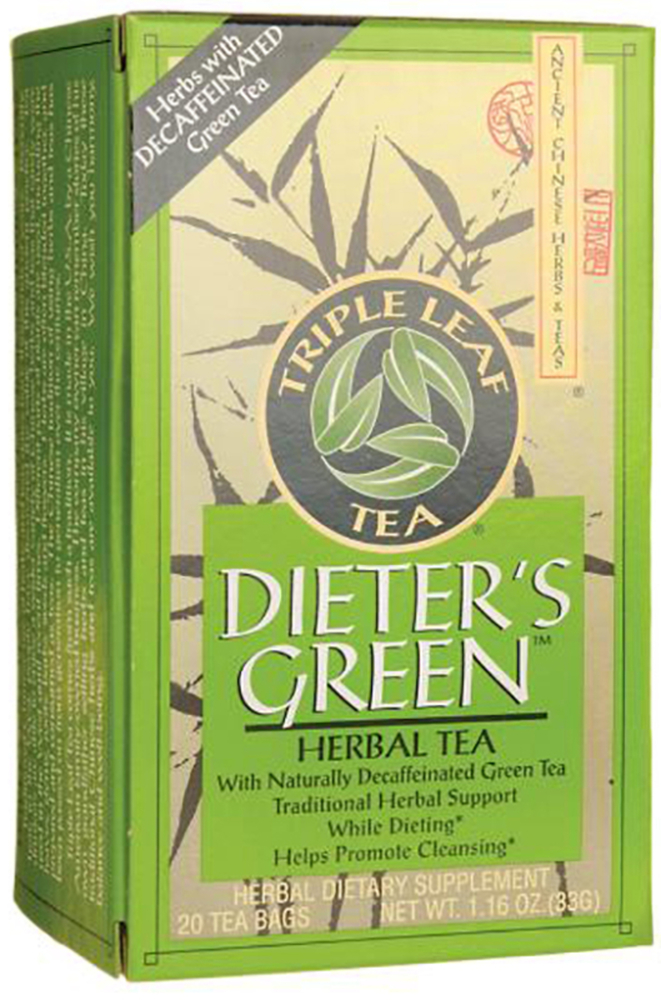 Dieter's Green Tea Decaffeinated, 20 Tea Bags
Our Price:
$3.99
(20% Off)
Supplement Facts
Serving Size:
1 Teabag Makes 8 fl. oz.
Servings Per Container:
20
Amount
Per Serving
% Daily
Value
(DV)
Proprietary Blend of Herbs
1650 mg
Senna leaf
-
*
Naturally decaffeinated green tea leaf
-
*
Whorled mallow leaf
-
*
Persimmon leaf
-
*
Suggested Use:
1 cup after dinner, not to exceed 2 cups in 24 hours. When first using this tea, make it weak by brewing it briefly. Or, brew 1 tea bag in 2 cups of water for 2 minutes, remove the tea bag and drink 1 cup hot or cold. Refrigerate the 2nd cup to drink the next day. After several days, you may gradually increase the strength to suit your individual taste. Do not drink for more than 7 consecutive days unless directed by your doctor.
BREWING DIRECTIONS: Pour 1-2 cups of boiling water over 1 tea bag. Let steep 2-5 minutes. Remove the tea bag, squeeze gently.
A tea bag can be re-used to extract more herbal benefits.
Try it with lemon and honey, or your favorite sweetener.
NOTE: This tea is not recommended for children, the elderly or sick people, or pregnant women and nursing mothers.
NOTICE: This product contains senna leaf. Read and follow directions carefully. Do not use if you have or develop diarrhea, loose stools, or abdominal pain because senna leaf may worsen these conditions and be harmful to your health. Consult your physician if you have frequent diarrhea or if you are pregnant, nursing, taking medication, or have a medical condition.
* Daily Value (DV) not established.