Laundry Detergent Eco-Strips (No Scent), 32 Pack
45337<p style="box-sizing: border-box; margin: 5px 0px 15px; padding: 0px; border: 0px; font-variant-numeric: inherit; font-variant-east-asian: inherit; font-stretch: inherit; font-size: 13px; line-height: 19px; font-family: Arial, helvetica, sans-serif; vertical-align: baseline; text-align: justify; background-color: rgb(255, 255, 255);">*From the Vendor*</p> <p style="box-sizing: border-box; margin: 5px 0px 15px; padding: 0px; border: 0px; font-variant-numeric: inherit; font-variant-east-asian: inherit; font-stretch: inherit; font-size: 13px; line-height: 19px; font-family: Arial, helvetica, sans-serif; vertical-align: baseline; text-align: justify; background-color: rgb(255, 255, 255);">Each Tru Earth eco-strip packs ultra-concentrated, convenient, eco-friendly cleaning power into a tiny, pre-measured strip of laundry detergent that you just toss in the wash.</p> <p style="box-sizing: border-box; margin: 5px 0px 15px; padding: 0px; border: 0px; font-variant-numeric: inherit; font-variant-east-asian: inherit; font-stretch: inherit; font-size: 13px; line-height: 19px; font-family: Arial, helvetica, sans-serif; vertical-align: baseline; text-align: justify; background-color: rgb(255, 255, 255);">- New zero-waste compostable packaging</p> <p style="box-sizing: border-box; margin: 5px 0px 15px; padding: 0px; border: 0px; font-variant-numeric: inherit; font-variant-east-asian: inherit; font-stretch: inherit; font-size: 13px; line-height: 19px; font-family: Arial, helvetica, sans-serif; vertical-align: baseline; text-align: justify; background-color: rgb(255, 255, 255);">- No measuring &amp; no mess</p> <p style="box-sizing: border-box; margin: 5px 0px 15px; padding: 0px; border: 0px; font-variant-numeric: inherit; font-variant-east-asian: inherit; font-stretch: inherit; font-size: 13px; line-height: 19px; font-family: Arial, helvetica, sans-serif; vertical-align: baseline; text-align: justify; background-color: rgb(255, 255, 255);">- Dissolves completely in Hot or Cold Water.</p> <p style="box-sizing: border-box; margin: 5px 0px 15px; padding: 0px; border: 0px; font-variant-numeric: inherit; font-variant-east-asian: inherit; font-stretch: inherit; font-size: 13px; line-height: 19px; font-family: Arial, helvetica, sans-serif; vertical-align: baseline; text-align: justify; background-color: rgb(255, 255, 255);">- Works in all washing machines, including HE. Front loads or top loads.</p>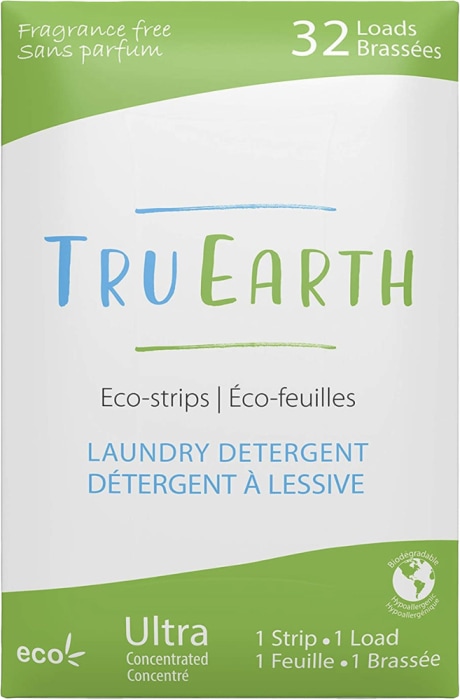 Roll over image to zoom in
Laundry Detergent Eco-Strips (No Scent), 32 Pack
45337<p style="box-sizing: border-box; margin: 5px 0px 15px; padding: 0px; border: 0px; font-variant-numeric: inherit; font-variant-east-asian: inherit; font-stretch: inherit; font-size: 13px; line-height: 19px; font-family: Arial, helvetica, sans-serif; vertical-align: baseline; text-align: justify; background-color: rgb(255, 255, 255);">*From the Vendor*</p> <p style="box-sizing: border-box; margin: 5px 0px 15px; padding: 0px; border: 0px; font-variant-numeric: inherit; font-variant-east-asian: inherit; font-stretch: inherit; font-size: 13px; line-height: 19px; font-family: Arial, helvetica, sans-serif; vertical-align: baseline; text-align: justify; background-color: rgb(255, 255, 255);">Each Tru Earth eco-strip packs ultra-concentrated, convenient, eco-friendly cleaning power into a tiny, pre-measured strip of laundry detergent that you just toss in the wash.</p> <p style="box-sizing: border-box; margin: 5px 0px 15px; padding: 0px; border: 0px; font-variant-numeric: inherit; font-variant-east-asian: inherit; font-stretch: inherit; font-size: 13px; line-height: 19px; font-family: Arial, helvetica, sans-serif; vertical-align: baseline; text-align: justify; background-color: rgb(255, 255, 255);">- New zero-waste compostable packaging</p> <p style="box-sizing: border-box; margin: 5px 0px 15px; padding: 0px; border: 0px; font-variant-numeric: inherit; font-variant-east-asian: inherit; font-stretch: inherit; font-size: 13px; line-height: 19px; font-family: Arial, helvetica, sans-serif; vertical-align: baseline; text-align: justify; background-color: rgb(255, 255, 255);">- No measuring &amp; no mess</p> <p style="box-sizing: border-box; margin: 5px 0px 15px; padding: 0px; border: 0px; font-variant-numeric: inherit; font-variant-east-asian: inherit; font-stretch: inherit; font-size: 13px; line-height: 19px; font-family: Arial, helvetica, sans-serif; vertical-align: baseline; text-align: justify; background-color: rgb(255, 255, 255);">- Dissolves completely in Hot or Cold Water.</p> <p style="box-sizing: border-box; margin: 5px 0px 15px; padding: 0px; border: 0px; font-variant-numeric: inherit; font-variant-east-asian: inherit; font-stretch: inherit; font-size: 13px; line-height: 19px; font-family: Arial, helvetica, sans-serif; vertical-align: baseline; text-align: justify; background-color: rgb(255, 255, 255);">- Works in all washing machines, including HE. Front loads or top loads.</p>
Size:
1 | 32 Pack
- In Stock
Quantity
More Information
*From the Vendor*
Each Tru Earth eco-strip packs ultra-concentrated, convenient, eco-friendly cleaning power into a tiny, pre-measured strip of laundry detergent that you just toss in the wash.
- New zero-waste compostable packaging
- No measuring & no mess
- Dissolves completely in Hot or Cold Water.
- Works in all washing machines, including HE. Front loads or top loads.
Directions:
Remove strip, place strip in water, add clothes
PipingRock's Passion for Quality is Backed by In-house Advanced Analytical Testing
PipingRock guarantees the highest quality because we design, manufacture, and test our supplements in our own state-of-the-art facilities.

Non-GMO Promise
At PipingRock, your health is our #1 priority. Genetically Modified Organisms (GMOs) are present in many dietary supplements, even though they have not yet proven safe for long-term consumption. PipingRock's commitment to bringing you safe, natural, premium-quality ingredients only does not allow for GMO uncertainty.
100% Satisfaction Guaranteed
We stand behind the quality in our products. If you are unhappy with your PipingRock product for any reason we will issue a full refund in accordance to our Return policy.
Laundry Detergent Eco-Strips (No Scent), 32 Pack
45337<p style="box-sizing: border-box; margin: 5px 0px 15px; padding: 0px; border: 0px; font-variant-numeric: inherit; font-variant-east-asian: inherit; font-stretch: inherit; font-size: 13px; line-height: 19px; font-family: Arial, helvetica, sans-serif; vertical-align: baseline; text-align: justify; background-color: rgb(255, 255, 255);">*From the Vendor*</p> <p style="box-sizing: border-box; margin: 5px 0px 15px; padding: 0px; border: 0px; font-variant-numeric: inherit; font-variant-east-asian: inherit; font-stretch: inherit; font-size: 13px; line-height: 19px; font-family: Arial, helvetica, sans-serif; vertical-align: baseline; text-align: justify; background-color: rgb(255, 255, 255);">Each Tru Earth eco-strip packs ultra-concentrated, convenient, eco-friendly cleaning power into a tiny, pre-measured strip of laundry detergent that you just toss in the wash.</p> <p style="box-sizing: border-box; margin: 5px 0px 15px; padding: 0px; border: 0px; font-variant-numeric: inherit; font-variant-east-asian: inherit; font-stretch: inherit; font-size: 13px; line-height: 19px; font-family: Arial, helvetica, sans-serif; vertical-align: baseline; text-align: justify; background-color: rgb(255, 255, 255);">- New zero-waste compostable packaging</p> <p style="box-sizing: border-box; margin: 5px 0px 15px; padding: 0px; border: 0px; font-variant-numeric: inherit; font-variant-east-asian: inherit; font-stretch: inherit; font-size: 13px; line-height: 19px; font-family: Arial, helvetica, sans-serif; vertical-align: baseline; text-align: justify; background-color: rgb(255, 255, 255);">- No measuring &amp; no mess</p> <p style="box-sizing: border-box; margin: 5px 0px 15px; padding: 0px; border: 0px; font-variant-numeric: inherit; font-variant-east-asian: inherit; font-stretch: inherit; font-size: 13px; line-height: 19px; font-family: Arial, helvetica, sans-serif; vertical-align: baseline; text-align: justify; background-color: rgb(255, 255, 255);">- Dissolves completely in Hot or Cold Water.</p> <p style="box-sizing: border-box; margin: 5px 0px 15px; padding: 0px; border: 0px; font-variant-numeric: inherit; font-variant-east-asian: inherit; font-stretch: inherit; font-size: 13px; line-height: 19px; font-family: Arial, helvetica, sans-serif; vertical-align: baseline; text-align: justify; background-color: rgb(255, 255, 255);">- Works in all washing machines, including HE. Front loads or top loads.</p>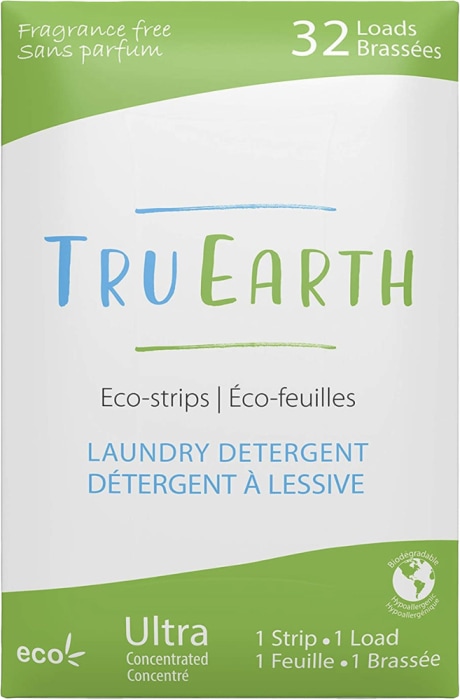 Laundry Detergent Eco-Strips (No Scent), 32 Pack
45337<p style="box-sizing: border-box; margin: 5px 0px 15px; padding: 0px; border: 0px; font-variant-numeric: inherit; font-variant-east-asian: inherit; font-stretch: inherit; font-size: 13px; line-height: 19px; font-family: Arial, helvetica, sans-serif; vertical-align: baseline; text-align: justify; background-color: rgb(255, 255, 255);">*From the Vendor*</p> <p style="box-sizing: border-box; margin: 5px 0px 15px; padding: 0px; border: 0px; font-variant-numeric: inherit; font-variant-east-asian: inherit; font-stretch: inherit; font-size: 13px; line-height: 19px; font-family: Arial, helvetica, sans-serif; vertical-align: baseline; text-align: justify; background-color: rgb(255, 255, 255);">Each Tru Earth eco-strip packs ultra-concentrated, convenient, eco-friendly cleaning power into a tiny, pre-measured strip of laundry detergent that you just toss in the wash.</p> <p style="box-sizing: border-box; margin: 5px 0px 15px; padding: 0px; border: 0px; font-variant-numeric: inherit; font-variant-east-asian: inherit; font-stretch: inherit; font-size: 13px; line-height: 19px; font-family: Arial, helvetica, sans-serif; vertical-align: baseline; text-align: justify; background-color: rgb(255, 255, 255);">- New zero-waste compostable packaging</p> <p style="box-sizing: border-box; margin: 5px 0px 15px; padding: 0px; border: 0px; font-variant-numeric: inherit; font-variant-east-asian: inherit; font-stretch: inherit; font-size: 13px; line-height: 19px; font-family: Arial, helvetica, sans-serif; vertical-align: baseline; text-align: justify; background-color: rgb(255, 255, 255);">- No measuring &amp; no mess</p> <p style="box-sizing: border-box; margin: 5px 0px 15px; padding: 0px; border: 0px; font-variant-numeric: inherit; font-variant-east-asian: inherit; font-stretch: inherit; font-size: 13px; line-height: 19px; font-family: Arial, helvetica, sans-serif; vertical-align: baseline; text-align: justify; background-color: rgb(255, 255, 255);">- Dissolves completely in Hot or Cold Water.</p> <p style="box-sizing: border-box; margin: 5px 0px 15px; padding: 0px; border: 0px; font-variant-numeric: inherit; font-variant-east-asian: inherit; font-stretch: inherit; font-size: 13px; line-height: 19px; font-family: Arial, helvetica, sans-serif; vertical-align: baseline; text-align: justify; background-color: rgb(255, 255, 255);">- Works in all washing machines, including HE. Front loads or top loads.</p>
Size:
1 | 32 Pack
- In Stock
Quantity