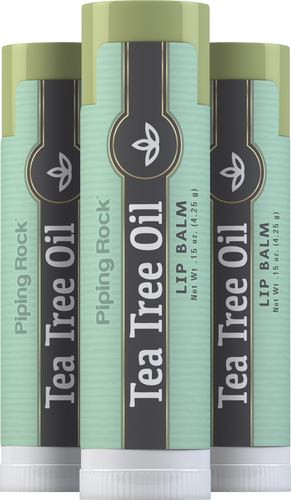 Tea Tree Oil Lip Balm 3 Pack, 0.15 oz (4 g) Tubes, 3 Tubes
Tea Tree: A Centuries-Old Wonder Oil!
The Melaleuca alternifolia tree has been long prized by the indigenous people of Australia for its numerous applications. In particular, the oil from this tree has been used to support healthy skin for generations!
When you think about it, your lips take a beating every day--from facing the wind and sun to touching anything you eat and drink, your lips are constantly experiencing the elements! Featuring Piping Rock's Tea Tree Oil Lip Balm that contains a blend of tea tree oil, coconut oil, shea butter and other skin-supportive compounds, our tea tree oil lip balm helps to soothe, soften and moisturize your lips.
Other Sizes

Related Products