Magnum Magnesium, 400 mg (per serving), 90 Vegetarian Capsules, 2 Bottles
21381<h2><strong>What is Magnesium?</strong></h2> <p>Magnesium, an abundant mineral in the body, is naturally present throughout nature and in many of the foods that we eat. This nutrient acts as one of the body&rsquo;s main electrolytes, which are crucial for mineral balance and hydration.**</p> <p>Roughly 99% of your body&rsquo;s total magnesium content is stored in your bones and muscles, which can become depleted slowly as we age. Adjusting your diet and supplement regiment can help you restore levels of magnesium, promote mineral sufficiency. Below are some of the richest food sources of this beneficial nutrient.</p> <h2><strong>Top Nutritional Sources of Magnesium</strong></h2> <p>-&nbsp;<strong>Spinach:</strong>&nbsp;157 mg per cup</p> <p>-&nbsp;<strong>Pumpkin Seeds:</strong>&nbsp;92 mg per 1/8 cup</p> <p>-&nbsp;<strong>Yogurt:</strong>&nbsp;50 per cup</p> <p>-&nbsp;<strong>Almonds:&nbsp;</strong>80 mg per cup</p> <p>-&nbsp;<strong>Figs:</strong>&nbsp;50 mg per 1/2 cup</p> <p>-&nbsp;<strong>Dark Chocolate:</strong>&nbsp;95 mg per square</p> <p>-&nbsp;<strong>Bananas:&nbsp;</strong>32 mg per banana</p> <h2><strong>Lindberg&nbsp;</strong>Magnum<strong> Magnesium&nbsp;</strong>&reg;</h2> <p>Lindberg Magnum&nbsp;Magnesium&reg; is the premium way to receive magnesium from the most trusted source of vitamins. Our trademarked supplement features a combination of three different forms of magnesium &mdash; &nbsp;Amino Acid Chelate, Citrate, and Malate in one 400 mg formula!</p> <p>Vegetarian capsules are gluten-free, free of artificial preservatives, and lab tested to match our exceptional purity and potency standards. &nbsp;Try Mega Magnesium from Lindberg today and experience the highest standard of quality for your vitamin routine. Love magnesium? Get incredible value out with our 2-bottle, 180 veggie capsule supply!</p>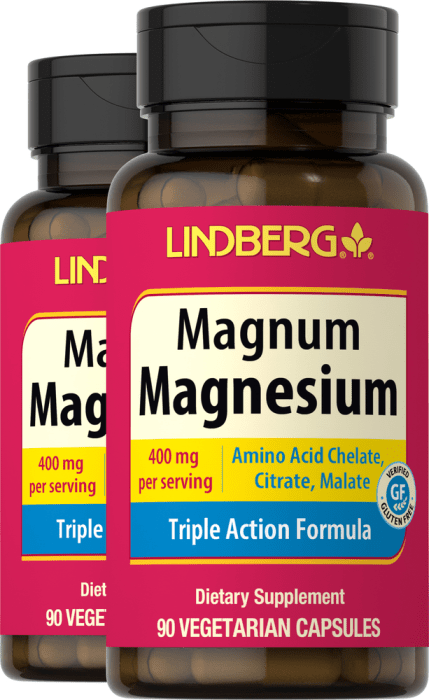 Roll over image to zoom in
Magnum Magnesium, 400 mg (per serving), 90 Vegetarian Capsules, 2 Bottles
21381<h2><strong>What is Magnesium?</strong></h2> <p>Magnesium, an abundant mineral in the body, is naturally present throughout nature and in many of the foods that we eat. This nutrient acts as one of the body&rsquo;s main electrolytes, which are crucial for mineral balance and hydration.**</p> <p>Roughly 99% of your body&rsquo;s total magnesium content is stored in your bones and muscles, which can become depleted slowly as we age. Adjusting your diet and supplement regiment can help you restore levels of magnesium, promote mineral sufficiency. Below are some of the richest food sources of this beneficial nutrient.</p> <h2><strong>Top Nutritional Sources of Magnesium</strong></h2> <p>-&nbsp;<strong>Spinach:</strong>&nbsp;157 mg per cup</p> <p>-&nbsp;<strong>Pumpkin Seeds:</strong>&nbsp;92 mg per 1/8 cup</p> <p>-&nbsp;<strong>Yogurt:</strong>&nbsp;50 per cup</p> <p>-&nbsp;<strong>Almonds:&nbsp;</strong>80 mg per cup</p> <p>-&nbsp;<strong>Figs:</strong>&nbsp;50 mg per 1/2 cup</p> <p>-&nbsp;<strong>Dark Chocolate:</strong>&nbsp;95 mg per square</p> <p>-&nbsp;<strong>Bananas:&nbsp;</strong>32 mg per banana</p> <h2><strong>Lindberg&nbsp;</strong>Magnum<strong> Magnesium&nbsp;</strong>&reg;</h2> <p>Lindberg Magnum&nbsp;Magnesium&reg; is the premium way to receive magnesium from the most trusted source of vitamins. Our trademarked supplement features a combination of three different forms of magnesium &mdash; &nbsp;Amino Acid Chelate, Citrate, and Malate in one 400 mg formula!</p> <p>Vegetarian capsules are gluten-free, free of artificial preservatives, and lab tested to match our exceptional purity and potency standards. &nbsp;Try Mega Magnesium from Lindberg today and experience the highest standard of quality for your vitamin routine. Love magnesium? Get incredible value out with our 2-bottle, 180 veggie capsule supply!</p>
Size:
2 Bottles | 90 Vegetarian Capsules
- In Stock
Quantity
More Information
What is Magnesium?
Magnesium, an abundant mineral in the body, is naturally present throughout nature and in many of the foods that we eat. This nutrient acts as one of the body's main electrolytes, which are crucial for mineral balance and hydration.**
Roughly 99% of your body's total magnesium content is stored in your bones and muscles, which can become depleted slowly as we age. Adjusting your diet and supplement regiment can help you restore levels of magnesium, promote mineral sufficiency. Below are some of the richest food sources of this beneficial nutrient.
Top Nutritional Sources of Magnesium
- Spinach: 157 mg per cup
- Pumpkin Seeds: 92 mg per 1/8 cup
- Yogurt: 50 per cup
- Almonds: 80 mg per cup
- Figs: 50 mg per 1/2 cup
- Dark Chocolate: 95 mg per square
- Bananas: 32 mg per banana
Lindberg Magnum Magnesium ®
Lindberg Magnum Magnesium® is the premium way to receive magnesium from the most trusted source of vitamins. Our trademarked supplement features a combination of three different forms of magnesium — Amino Acid Chelate, Citrate, and Malate in one 400 mg formula!
Vegetarian capsules are gluten-free, free of artificial preservatives, and lab tested to match our exceptional purity and potency standards. Try Mega Magnesium from Lindberg today and experience the highest standard of quality for your vitamin routine. Love magnesium? Get incredible value out with our 2-bottle, 180 veggie capsule supply!
Supplement Facts
Serving Size:
3 Vegetarian Capsules
Servings Per Container:
30
Amount
Per Serving
% Daily
Value
(DV)
Magnesium

(as Magnesium Malate, Magnesium Amino Acid Chelate, and Magnesium Citrate)

400 mg
95%
Other Ingredients:
Vegetarian Capsule, Rice Powder, Vegetable Magnesium Stearate, Silica.
Directions:
For adults, take three (3) vegetarian capsules daily, preferably with a meal.
WARNING:
If you are pregnant, nursing, taking any medications or have any medical condition, including kidney disease, consult your doctor before use. May cause gastrointestinal discomfort. If any adverse reactions occur, immediately stop using this product and consult your doctor. If seal under cap is damaged or missing, do not use. Keep out of reach of children. Store in a cool, dry place.
PipingRock's Passion for Quality is Backed by In-house Advanced Analytical Testing
PipingRock guarantees the highest quality because we design, manufacture, and test our supplements in our own state-of-the-art facilities.

Non-GMO Promise
At PipingRock, your health is our #1 priority. Genetically Modified Organisms (GMOs) are present in many dietary supplements, even though they have not yet proven safe for long-term consumption. PipingRock's commitment to bringing you safe, natural, premium-quality ingredients only does not allow for GMO uncertainty.
100% Satisfaction Guaranteed
We stand behind the quality in our products. If you are unhappy with your PipingRock product for any reason we will issue a full refund in accordance to our Return policy.
Magnum Magnesium, 400 mg (per serving), 90 Vegetarian Capsules, 2 Bottles
21381<h2><strong>What is Magnesium?</strong></h2> <p>Magnesium, an abundant mineral in the body, is naturally present throughout nature and in many of the foods that we eat. This nutrient acts as one of the body&rsquo;s main electrolytes, which are crucial for mineral balance and hydration.**</p> <p>Roughly 99% of your body&rsquo;s total magnesium content is stored in your bones and muscles, which can become depleted slowly as we age. Adjusting your diet and supplement regiment can help you restore levels of magnesium, promote mineral sufficiency. Below are some of the richest food sources of this beneficial nutrient.</p> <h2><strong>Top Nutritional Sources of Magnesium</strong></h2> <p>-&nbsp;<strong>Spinach:</strong>&nbsp;157 mg per cup</p> <p>-&nbsp;<strong>Pumpkin Seeds:</strong>&nbsp;92 mg per 1/8 cup</p> <p>-&nbsp;<strong>Yogurt:</strong>&nbsp;50 per cup</p> <p>-&nbsp;<strong>Almonds:&nbsp;</strong>80 mg per cup</p> <p>-&nbsp;<strong>Figs:</strong>&nbsp;50 mg per 1/2 cup</p> <p>-&nbsp;<strong>Dark Chocolate:</strong>&nbsp;95 mg per square</p> <p>-&nbsp;<strong>Bananas:&nbsp;</strong>32 mg per banana</p> <h2><strong>Lindberg&nbsp;</strong>Magnum<strong> Magnesium&nbsp;</strong>&reg;</h2> <p>Lindberg Magnum&nbsp;Magnesium&reg; is the premium way to receive magnesium from the most trusted source of vitamins. Our trademarked supplement features a combination of three different forms of magnesium &mdash; &nbsp;Amino Acid Chelate, Citrate, and Malate in one 400 mg formula!</p> <p>Vegetarian capsules are gluten-free, free of artificial preservatives, and lab tested to match our exceptional purity and potency standards. &nbsp;Try Mega Magnesium from Lindberg today and experience the highest standard of quality for your vitamin routine. Love magnesium? Get incredible value out with our 2-bottle, 180 veggie capsule supply!</p>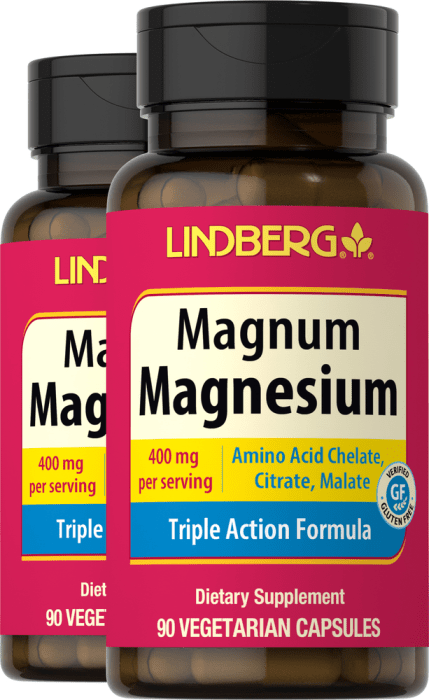 Magnum Magnesium, 400 mg (per serving), 90 Vegetarian Capsules, 2 Bottles
21381<h2><strong>What is Magnesium?</strong></h2> <p>Magnesium, an abundant mineral in the body, is naturally present throughout nature and in many of the foods that we eat. This nutrient acts as one of the body&rsquo;s main electrolytes, which are crucial for mineral balance and hydration.**</p> <p>Roughly 99% of your body&rsquo;s total magnesium content is stored in your bones and muscles, which can become depleted slowly as we age. Adjusting your diet and supplement regiment can help you restore levels of magnesium, promote mineral sufficiency. Below are some of the richest food sources of this beneficial nutrient.</p> <h2><strong>Top Nutritional Sources of Magnesium</strong></h2> <p>-&nbsp;<strong>Spinach:</strong>&nbsp;157 mg per cup</p> <p>-&nbsp;<strong>Pumpkin Seeds:</strong>&nbsp;92 mg per 1/8 cup</p> <p>-&nbsp;<strong>Yogurt:</strong>&nbsp;50 per cup</p> <p>-&nbsp;<strong>Almonds:&nbsp;</strong>80 mg per cup</p> <p>-&nbsp;<strong>Figs:</strong>&nbsp;50 mg per 1/2 cup</p> <p>-&nbsp;<strong>Dark Chocolate:</strong>&nbsp;95 mg per square</p> <p>-&nbsp;<strong>Bananas:&nbsp;</strong>32 mg per banana</p> <h2><strong>Lindberg&nbsp;</strong>Magnum<strong> Magnesium&nbsp;</strong>&reg;</h2> <p>Lindberg Magnum&nbsp;Magnesium&reg; is the premium way to receive magnesium from the most trusted source of vitamins. Our trademarked supplement features a combination of three different forms of magnesium &mdash; &nbsp;Amino Acid Chelate, Citrate, and Malate in one 400 mg formula!</p> <p>Vegetarian capsules are gluten-free, free of artificial preservatives, and lab tested to match our exceptional purity and potency standards. &nbsp;Try Mega Magnesium from Lindberg today and experience the highest standard of quality for your vitamin routine. Love magnesium? Get incredible value out with our 2-bottle, 180 veggie capsule supply!</p>
Size:
2 Bottles | 90 Vegetarian Capsules
- In Stock
Quantity
PipingRock.com
1-4 of 4 customer reviews
@anonymous
@anonymous@anonymous
Jul 04, 2020
Reviews 16
Vote 8
Herbie54
Herbie54Herbie54
Feb 27, 2022
Reviews 30
Vote 4
@anonymous
@anonymous@anonymous
Sep 28, 2021
Reviews 7
yammay
yammayyammay
May 30, 2021
Reviews 57
Vote 9