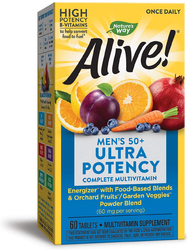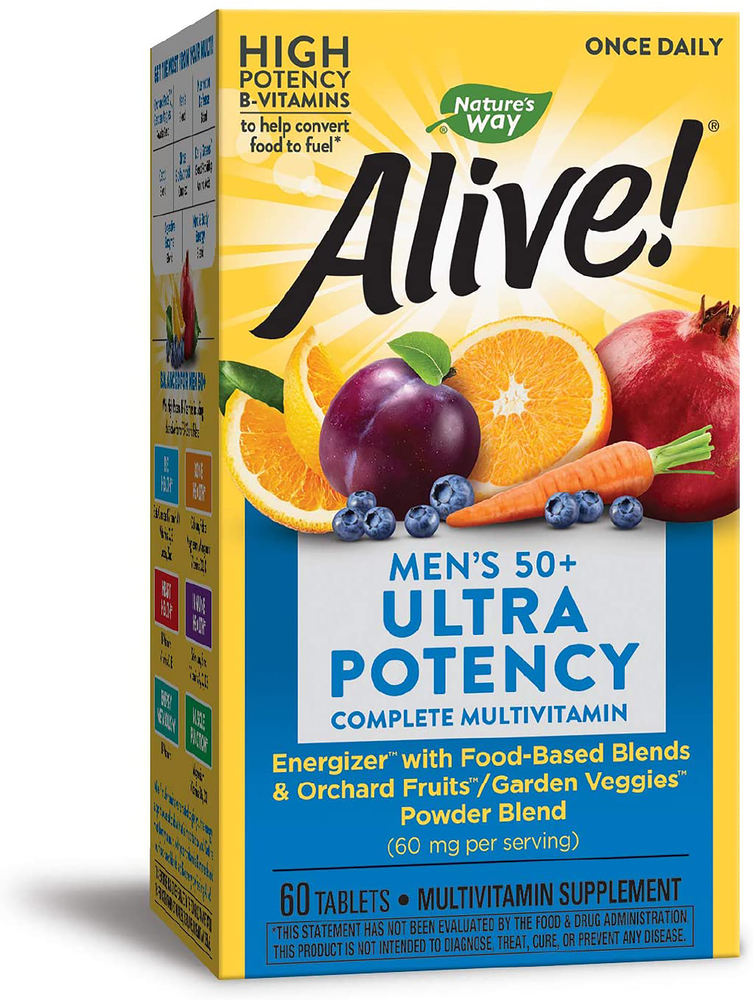 Alive! Once Daily Men's 50+ Multi-Vitamin Ultra Potency, 60 Tablets
Our Price:
$15.99
(38% Off)
Supplement Facts
Servings Per Container:
60 Tablets
Amount
Per Serving
% Daily
Value
(DV)
Total Carbohydrate
<1 g
1%
Vitamin A

(as 50% [675 mcg] Beta Carotene, 50% [675 mcg Retinyl Acetate]

1,350 mcg
150%
Vitamin C (ascorbic acid)
203 mg
226%
Vitamin D3 (as cholecalciferol)
50 mcg
250%
Vitamin E (as d-alpha tocopheryl succinate)
60 mg
400%
Vitamin K (as phytonadione)
120 mcg
100%
Thiamin (as Thiamin Mononitrate)
20 mg
1,667%
Riboflavin (Vitamin B2)
20 mg
1,538%
Niacin (as niacinamide)
40 mg
250%
Vitamin B6 (as pyridoxine HCl)
34 mg
2,000%
Folate (837 mcg Quatrefolic brand (6S)-5-Methyltetrahydrofolate Glucosamine Salt
800 mcg
200%
Vitamin B12 (as methylcobalamin)
90 mcg
3,750%
Biotin
33 mcg
110%
Pantothenic Acid (as d-calcium pantothenate)
20 mg
400%
Choline (as choline bitartrate)
20 mg
4%
Calcium

(from Aquamin calcified mineral source Red Algae Lithothamniom sp. [whole plant])

130 mg
10%
Iodine (as potassium iodide)
150 mcg
100%
Magnesium

(as Aquamin calcified mineral source Red Algae Lithothamniom sp. [whole plant] and Magnesium Oxide)

55 mg
13%
Zinc (as zinc oxide)
22 mg
200%
Selenium (as Sodium Selenate)
200 mcg
364%
Copper (as copper sulfate)
1.8 mg
200%
Manganese (as manganese sulfate)
5.8 mg
252%
Molybdenum (as sodium molybdate)
45 mcg
100%
Potassium (as potassium citrate)
5 mg
<1%
Men's Blend

Saw Palmetto (berry), Lycopene from Tomato Extract (1 mg)

101 mg
†
Orchard Fruits™ & Garden Veggies™ Powder Blend:

Blueberry, Orange, Carrot, Pomegranate, Plum, Strawberry, Apple, Beet, Cherry, Pear, Tomato, Cauliflower, Raspberry, Açaí, Asparagus, Banana, Broccoli, Brussels Sprout, Cabbage, Cranberry, Cucumber, Grape, Pea, Pineapple, Pumpkin, Spinach

60 mg
†
Mind & Body Energy Blend

Ginkgo Biloba Extract, Gota Kola (stem), Korean Ginseng Extract (root), Rhodiola Rosea Extract (root) Standardized to 3% Rosavins (0.18mg) and 1% Salidroside (0.06mg), Siberian Eleuthero

30 mg
†
Cardio Blend

Hawthorn (berry), Japanese Knotweed Extract (root) Standardized to 50% Resveratrol (1 mg), Coenzyme Q10 (Ubiquinone)

20 mg
†
Citrus Bioflavonoid Complex

(from orange, grapefruit, lemon, lime, tangerine) providing: Hesperidin, Naringin, Narirutin, Eriocitrin, Flavonols and Flavones

20 mg
†
Daily Greens Blend Providing Amino Acids

Spirulina, Kelp, Alfalfa (leaf, stem), Barley Grass, Blessed Thistle (stem, leaf, flower), Blue Green Algae (Aphanizomenon flos-Aquae), Chlorella, Cilantro (leaf), Dandelion (leaf), Lemon Balm (leaf), Lemon Grass, Nettle (leaf), Plantain (leaf), Wheat Grass

20 mg
†
Digestive Enzyme Blend

Concentrated Enzyme Formula (Protease I, Protease II, Amylase, Lactase, Peptidase, Cellulase, Invertase, Alpha Galactosidase, Lipase), Betaine HCl, Bromelain, Papain

20 mg
†
Inositol
20 mg
†
Mushroom Mycelial & Primorida Biomass Defense Blend

Reishi (Ganoderma lucidum), Shiitake (Lentinula edodes), Oyster Hiratake (Pleurotus ostreatus), Enokitake (Flammulina velutipes), Maitake (Grifola frondosa), Yamabushitake (Hericium erinaceus), Agarikon (Fomitopsis officinalis), Chaga (Inonotus obliquus), Himematsutake (Agaricus brasiliensis/blazei), Kawaratake (Trametes versicolor), Mesima (Phellinus linteus), Zhu Ling (Grifola umbellata)

20 mg
†
Rutin (Sophora japonica) flower bud extract
5 mg
†
Lutein (from marigold)
1 mg
†
Other Ingredients:
Cellulose, Stearic Acid, Sodium Croscarmellose, Silica, Hypromellose, Magnesium Stearate, Glycerin, Brown Rice.
Directions:
Men take 1 tablet daily, preferably with food. Do not exceed recommended use.
WARNING:
*These statements have not been evaluated by the Food and Drug Administration. This product is not intended to diagnose, treat, cure or prevent any disease.
Keep out of reach of children. Not formulated for women or children. If you have high blood pressure, have a kidney disorder, taking medications for diabetes or any other medications, consult a healthcare professional before use. Contains the amino acid phenylalanine. Do not exceed recommended use. Store at room temperature. Keep bottle tightly closed.
Other Information:
Gluten Free.
† Daily Value (DV) not established.