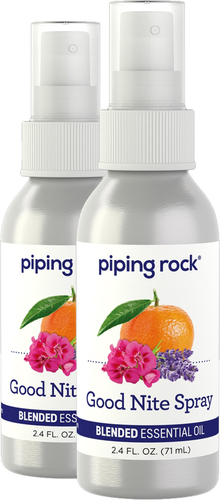 Goodnite Spray, 2.4 fl oz (71 mL) Spray Bottle, 2 Spray Bottles

Goodnite Spray
Nature's finest soothing botanicals come together in our very own Goodnite Aromatherapy Spray!
Featuring our Goodnite Oil Blend infused with Coconut Oil this spray features: Lavender, Tangerine, Bergamot, Geranium, Cypress, Frankincense, Blue Chamomile oils, you'll soon lose yourself in the warm, floral aroma every night before bedtime!
This paraben-free, gluten-free and 100% pure plant based formula brings to you a natural boost no matter the time of the day. Some of our preferred uses of this versatile spray are:
Room Spray
The perfect way to spruce up the aroma in your home, give this essential oil spray a go and wow guests when they enter for a serene environment.
Linen Spray
Make your sheets a little getaway each time you go to bed with our Goodnite Essential Oil Spray.
This essential oil spray is for aromatherapy use only and is not for ingesting!
Other Sizes
Related Products