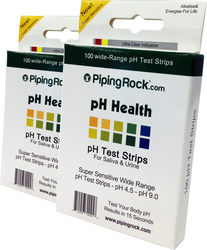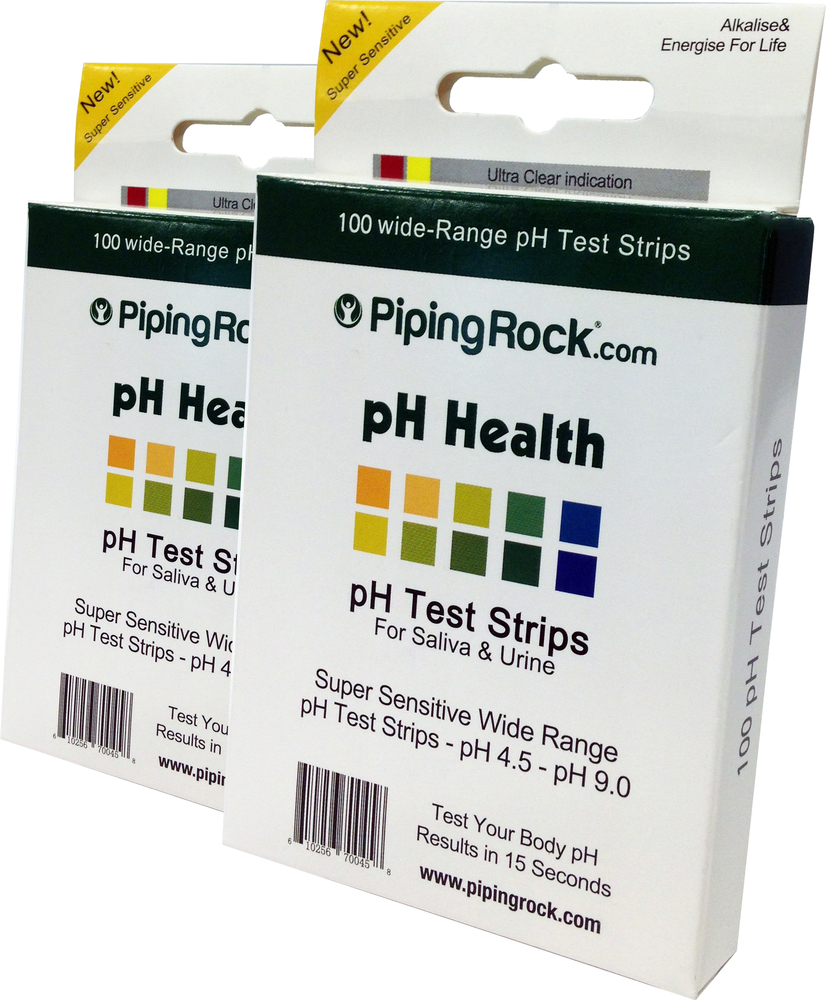 PH Test Strips for Saliva and Urine, 100 Test Strips, 2 Boxes
Our Price:
$8.99
(25% Off)
Know your body's pH state in just 15 seconds!
Testing your pH levels has never been easier with our convenient pH Test Strips! Able to be used for both saliva and urine, these ultra-sensitive strips give an accurate reading of your body's current pH status in just 15 seconds, allowing you to test your acid-alkaline balance right in your own home. Quickly identify any acid risks and take action to restore your body's natural, healthy alkalinity with these ultra-clear indicators!
To test urine…
Test the first and second urine of your day and record the average reading. To test, briefly place the pH strip in the urine stream, shake any excess fluid and wait 15 seconds for your pH reading.
To test saliva…
Two hours after eating, spit saliva into a spoon and dip a pH strip into the fluid. After 15 seconds, your pH level will appear.
Maintain your healthy lifestyle!
Typically, a reading of pH 7.0+ is considered perfect, pH 6.5 is acidic and below pH 6.0 is very acidic. Test 2-3 times per day and over long periods of time to get your average reading. Once you have recorded your results, it is recommended that you consult with your healthcare provider.
Be sure to replace the cap tightly and immediately after use. Do not touch the test areas of the strips. Store in a cool, dry place. These strips are for in vitro use only.
Piping Rock's Promise:
We proudly offer you our ever-growing selection of Vitamin & Supplement products designed to help you achieve your wellness goals at the lowest cost in the industry! The beauty lies in the depth of our assortment. Piping Rock carries hundreds of Vitamin & Supplement products for Men & Women's Health. We offer capsules, powders, softgels, liquids, organic formulas and much more. Our products are stacked with premium ingredients, sourced from all over the globe. Our robust product line is evolving every day to meet your wellness needs!
About Piping Rock's Quality:
You've found your One-Stop-Shop for Vitamins & Supplements at Piping Rock. Our formulas are crafted in our own "GMP Certified" manufacturing facilities. We verify Piping Rock products with third-party, FDA-registered agencies to ensure quality & purity. Each product goes through hundreds of checks, in-process and post-production. Furthermore, we can assure you that everything that is on our label is consistent with what goes into our Vitamins & Supplements. We guarantee purity, potency, safety and innovation in everything we do.
Other Sizes
Related Products