What is Vitamin E?
​
A legendary antioxidant, vitamin E helps fight cell-damaging free radicals that accelerate the signs of aging. Adding vitamin E cream to your beautifying routine can help keep your skin smooth and luxuriously soft while protecting it against the harsh elements we all come into contact with every day!
What does Vitamin E Cream do?
Piping Rock's vitamin E cream has been specially formulated to soak your skin in moisture, promoting soft, youthful skin that positively glows with health. A multifaceted cosmetic must-have, vitamin e cream even helps with the damaging & drying effects of sun, wind and weather exposure on the delicate top layers of skin. Find yourself turning back the clock and let your youthful radiance shine with this hydrating cream!
This non-greasy fomula makes this cream suitable to wear underneath make-up and sunscreen.
Other Sizes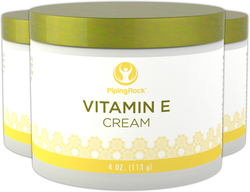 Related Products