Superior Quality Natural Sweetener
The natural product of bees, honey is made from the nectar of various plants, producing specific flavor profiles and aromas based on which plants are visited by the bees. Wildflower honey is unique in that the honeybees visit several different flowers, trees and bushes to collect the nectar, resulting in a darker, more robust product that makes a wonderful addition to any recipe!
Why choose wildflower honey as your sweetener? It naturally contains no sodium or cholesterol and is primarily comprised of fructose and glucose, in addition to trace vitamins and minerals, antioxidant compounds and carbohydrates.
Other Sizes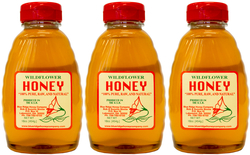 Related Products