MSM, 1000 mg, 180 Quick Release Capsules, 2 Bottles
20821<h2><strong>What is MSM?</strong></h2> <p>MSM or (methylsulfonylmethane) is a source of sulfur, one of the most abundant minerals in the human body. Sulfur is essential in many body functions. It&#39;s critical to the production of healthy collagen - the building block of nails, skin, hair, joints, and other connective tissues.**</p> <h2>Supplementing with MSM</h2> <p>MSM is typically found in plant foods such as brussel sprouts, asparagus, legumes, kale, and wheat germ. The MSM content of the food is highly dependent on the sulfur content of the soil. For this reason, animal sources such as eggs, meat, poultry, fish, and milk tend to be a more reliable source of this compound. MSM capsules are an easy form of support from this naturally occurring sulfur for healthy joints, hair, skin &amp; nails.**</p> <h2><strong>Lindberg MSM Features</strong></h2> <p>- MSM (1,000 mg)</p> <p>- Convenient Daily Capsules</p> <p>- Guaranteed Purity and Potency</p> <p>- Gluten-Free Verified</p> <p>- 360 Capsule&nbsp;Supply</p> <p>Commonly found in foods, MSM is largely lost during processing and cooking. Fortunately, you can economically add MSM to your diet with this supplement that captures the essence of purity and potency.&nbsp;Each 1,000 mg serving provides a strong concentration of this abundant mineral in convenient quick-release capsules for your daily routine.</p>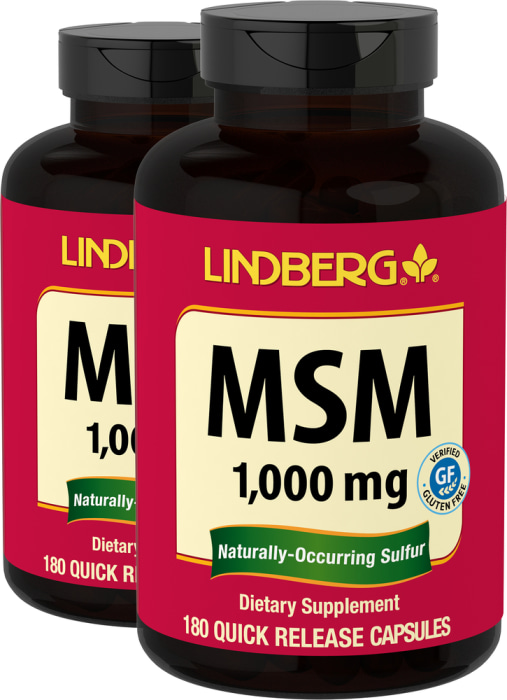 Roll over image to zoom in
MSM, 1000 mg, 180 Quick Release Capsules, 2 Bottles
20821<h2><strong>What is MSM?</strong></h2> <p>MSM or (methylsulfonylmethane) is a source of sulfur, one of the most abundant minerals in the human body. Sulfur is essential in many body functions. It&#39;s critical to the production of healthy collagen - the building block of nails, skin, hair, joints, and other connective tissues.**</p> <h2>Supplementing with MSM</h2> <p>MSM is typically found in plant foods such as brussel sprouts, asparagus, legumes, kale, and wheat germ. The MSM content of the food is highly dependent on the sulfur content of the soil. For this reason, animal sources such as eggs, meat, poultry, fish, and milk tend to be a more reliable source of this compound. MSM capsules are an easy form of support from this naturally occurring sulfur for healthy joints, hair, skin &amp; nails.**</p> <h2><strong>Lindberg MSM Features</strong></h2> <p>- MSM (1,000 mg)</p> <p>- Convenient Daily Capsules</p> <p>- Guaranteed Purity and Potency</p> <p>- Gluten-Free Verified</p> <p>- 360 Capsule&nbsp;Supply</p> <p>Commonly found in foods, MSM is largely lost during processing and cooking. Fortunately, you can economically add MSM to your diet with this supplement that captures the essence of purity and potency.&nbsp;Each 1,000 mg serving provides a strong concentration of this abundant mineral in convenient quick-release capsules for your daily routine.</p>
Size:
2 Bottles | 180 Quick Release Capsules
- In Stock
Quantity
More Information
What is MSM?
MSM or (methylsulfonylmethane) is a source of sulfur, one of the most abundant minerals in the human body. Sulfur is essential in many body functions. It's critical to the production of healthy collagen - the building block of nails, skin, hair, joints, and other connective tissues.**
Supplementing with MSM
MSM is typically found in plant foods such as brussel sprouts, asparagus, legumes, kale, and wheat germ. The MSM content of the food is highly dependent on the sulfur content of the soil. For this reason, animal sources such as eggs, meat, poultry, fish, and milk tend to be a more reliable source of this compound. MSM capsules are an easy form of support from this naturally occurring sulfur for healthy joints, hair, skin & nails.**
Lindberg MSM Features
- MSM (1,000 mg)
- Convenient Daily Capsules
- Guaranteed Purity and Potency
- Gluten-Free Verified
- 360 Capsule Supply
Commonly found in foods, MSM is largely lost during processing and cooking. Fortunately, you can economically add MSM to your diet with this supplement that captures the essence of purity and potency. Each 1,000 mg serving provides a strong concentration of this abundant mineral in convenient quick-release capsules for your daily routine.
Supplement Facts
Servings Per Container:
180
Amount
Per Serving
% Daily
Value
(DV)
MSM (Methylsulfonylmethane) (1,000 mg)
1 g
*
Other Ingredients:
Gelatin Capsule, Vegetable Magnesium Stearate.
Directions:
For adults, take one (1) quick release capsule one to four times daily, preferably with meals.
WARNING:
If you are pregnant, nursing, taking any medications or have any medical condition, consult your doctor before use. If any adverse reactions occur, immediately stop using this product and consult your doctor. If seal under cap is damaged or missing, do not use.Keep out of reach of children. Store in a cool, dry place.
* Daily Value (DV) not established.
PipingRock's Passion for Quality is Backed by In-house Advanced Analytical Testing
PipingRock guarantees the highest quality because we design, manufacture, and test our supplements in our own state-of-the-art facilities.

Non-GMO Promise
At PipingRock, your health is our #1 priority. Genetically Modified Organisms (GMOs) are present in many dietary supplements, even though they have not yet proven safe for long-term consumption. PipingRock's commitment to bringing you safe, natural, premium-quality ingredients only does not allow for GMO uncertainty.
100% Satisfaction Guaranteed
We stand behind the quality in our products. If you are unhappy with your PipingRock product for any reason we will issue a full refund in accordance to our Return policy.
MSM, 1000 mg, 180 Quick Release Capsules, 2 Bottles
20821<h2><strong>What is MSM?</strong></h2> <p>MSM or (methylsulfonylmethane) is a source of sulfur, one of the most abundant minerals in the human body. Sulfur is essential in many body functions. It&#39;s critical to the production of healthy collagen - the building block of nails, skin, hair, joints, and other connective tissues.**</p> <h2>Supplementing with MSM</h2> <p>MSM is typically found in plant foods such as brussel sprouts, asparagus, legumes, kale, and wheat germ. The MSM content of the food is highly dependent on the sulfur content of the soil. For this reason, animal sources such as eggs, meat, poultry, fish, and milk tend to be a more reliable source of this compound. MSM capsules are an easy form of support from this naturally occurring sulfur for healthy joints, hair, skin &amp; nails.**</p> <h2><strong>Lindberg MSM Features</strong></h2> <p>- MSM (1,000 mg)</p> <p>- Convenient Daily Capsules</p> <p>- Guaranteed Purity and Potency</p> <p>- Gluten-Free Verified</p> <p>- 360 Capsule&nbsp;Supply</p> <p>Commonly found in foods, MSM is largely lost during processing and cooking. Fortunately, you can economically add MSM to your diet with this supplement that captures the essence of purity and potency.&nbsp;Each 1,000 mg serving provides a strong concentration of this abundant mineral in convenient quick-release capsules for your daily routine.</p>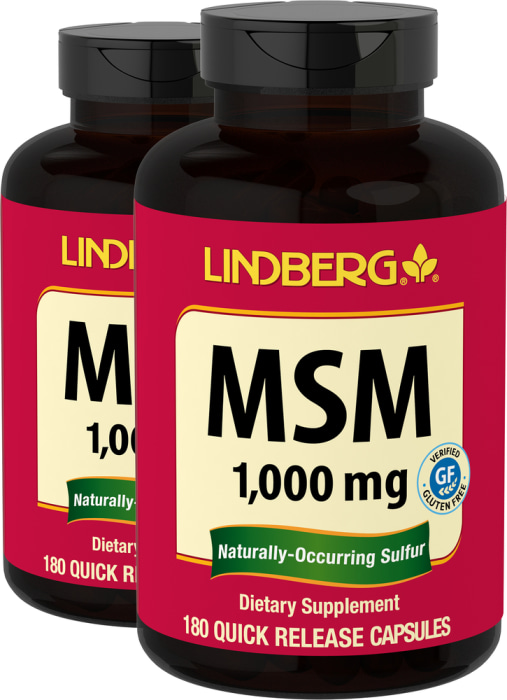 MSM, 1000 mg, 180 Quick Release Capsules, 2 Bottles
20821<h2><strong>What is MSM?</strong></h2> <p>MSM or (methylsulfonylmethane) is a source of sulfur, one of the most abundant minerals in the human body. Sulfur is essential in many body functions. It&#39;s critical to the production of healthy collagen - the building block of nails, skin, hair, joints, and other connective tissues.**</p> <h2>Supplementing with MSM</h2> <p>MSM is typically found in plant foods such as brussel sprouts, asparagus, legumes, kale, and wheat germ. The MSM content of the food is highly dependent on the sulfur content of the soil. For this reason, animal sources such as eggs, meat, poultry, fish, and milk tend to be a more reliable source of this compound. MSM capsules are an easy form of support from this naturally occurring sulfur for healthy joints, hair, skin &amp; nails.**</p> <h2><strong>Lindberg MSM Features</strong></h2> <p>- MSM (1,000 mg)</p> <p>- Convenient Daily Capsules</p> <p>- Guaranteed Purity and Potency</p> <p>- Gluten-Free Verified</p> <p>- 360 Capsule&nbsp;Supply</p> <p>Commonly found in foods, MSM is largely lost during processing and cooking. Fortunately, you can economically add MSM to your diet with this supplement that captures the essence of purity and potency.&nbsp;Each 1,000 mg serving provides a strong concentration of this abundant mineral in convenient quick-release capsules for your daily routine.</p>
Size:
2 Bottles | 180 Quick Release Capsules
- In Stock
Quantity
PipingRock.com
1-5 of 5 customer reviews
Sergio Ivan
Sergio IvanSergio Ivan
Jan 06, 2021
Reviews 6
Vote 4
Gender Male
Age 55 to 64
ok
great productgreat product
Madapialjp1956
Madapialjp1956Madapialjp1956
Apr 14, 2022
Reviews 5
Gender Female
Age 65 or over
Love it
Great suplement for hair skin nailsGreat suplement for hair skin nails
@anonymous
@anonymous@anonymous
Jun 04, 2021
Reviews 1
Amalasundanamur
AmalasundanamurAmalasundanamur
Feb 20, 2021
Reviews 57
Vote 28
@anonymous
@anonymous@anonymous
Jan 31, 2021
Reviews 5