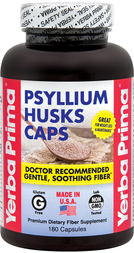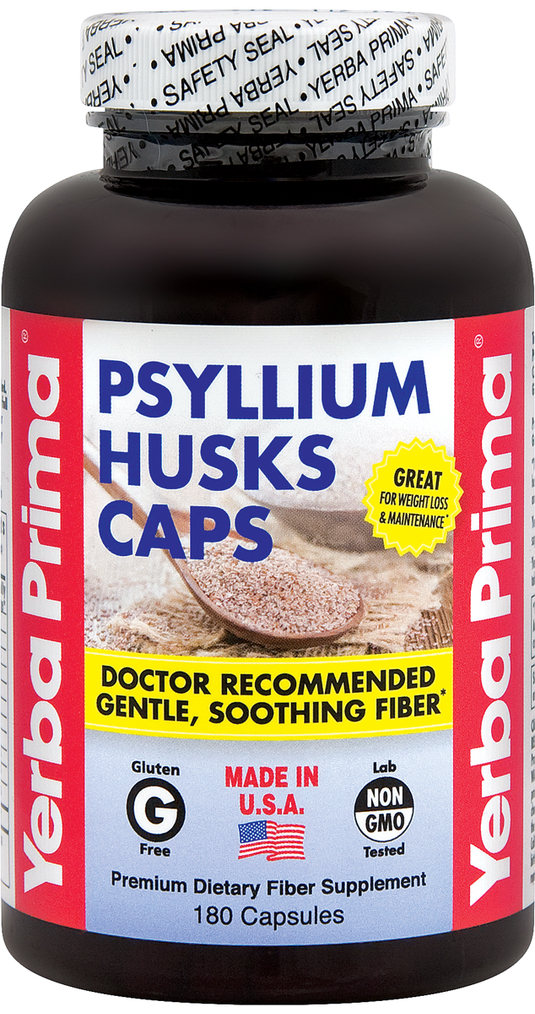 Psyllium Husks Caps, 180 Capsules
Our Price:
$9.99
(33% Off)
Supplement Facts
Servings Per Container:
45
Amount
Per Serving
% Daily
Value
(DV)
Calories
8
Total Fat
0 g
0%
Total Carbohydrate
2.2 g
2%
Dietary Fiber
2.2 g
9%
Soluble Fiber
1.8 g
Insoluble Fiber
0.4 g
Sugars
0 g
Protein
0 g
Calcium
5 mg
2%
Sodium
2 mg
2%
Potassium
22 mg
2%
Psyllium Seed Husks
2.5 g
†
Ingredients:
Psyllium Seed Husks, USP Kosher Gelatin Capsule.
Directions:
Adults and Children Over 12: 4 or 5 capsules, one to three times a day. Take with food.
For children 6-12: Do not take capsules. Psyllium Husks in powder form is recommended for ease of use.
Start by taking 1 serving each day. Gradually increase to 3 servings per day if needed. Swallow one capsule at a time.
Take each serving with at least 8 oz (a full glass) of water or other liquid. Drinking additional liquid is helpful. If minor gas or bloating occurs, reduce the amount you take until your system adjusts. Use every day for best results.
Yerba Prima Psyllium Husks For Regularity and Colon Health: Psyllium husks promote easy, healthy elimination with gentle fiber. To maintain regularity and colon health, take 1 to 3 servings a day, with meals.*
Yerba Prima Psyllium Husks for Weight Management: To promote satiety and support weight maintenance, take 1 to 3 servings a day, with meals.* Yerba Prima Psyllium Husks For Heart Health: To help support heart health, take 5 capsules 3 times a day, with meals.*
WARNING:
*These statements have not been evaluated by the Food and Drug Administration. This product is not intended to diagnose, treat, cure or prevent any disease.
Keep out of reach of children. Do not take capsules if you have difficulty swallowing. A very small percentage of individuals, particularly health care providers who have been occupationally exposed to psyllium dust, may develop a sensitivity to psyllium. This sensitivity may result in an allergic reaction. If you experience a strong reaction, with difficulty in swallowing or breathing after taking this product, seek immediate medical attention. As with all bulking fiber supplements, do not take within 1 to 2 hours of prescription medications. If you are taking medication or are under a doctor's care, consult a health professional before use. Store at room temperature. Keep tightly closed to protect from humidity.
† Daily Value (DV) not established.