Original Papaya Enzyme Chewable, 600 Chewable Tablets
41466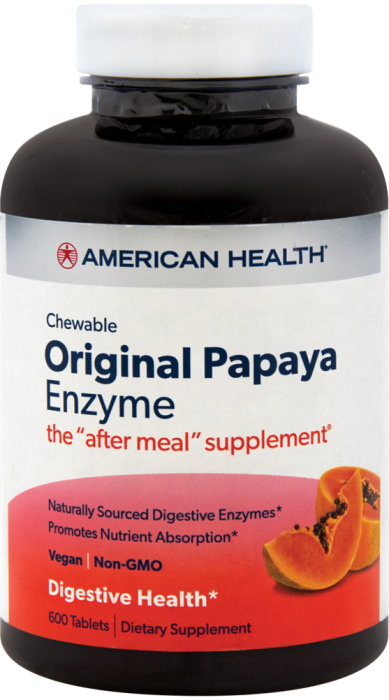 Roll over image to zoom in
Original Papaya Enzyme Chewable, 600 Chewable Tablets
41466
Size:
1 | 600 Chewable Tablets
- In Stock
Quantity
More Information
Supplement Facts
Servings Per Container:
200
Amount
Per Serving
% Daily
Value
(DV)
Calories
5
Total Carbohydrate
1 g
1%
Sugars

Includes 1g Added Sugars

1 g
2%
Calcium
157 mg
12%
Papain (from Papaya) (90,000 USP)
45 mg
*
Amylase (240 DU)
6 mg
*
Protease (from Papaya) (9,600 USP)
6 mg
*
Papaya Fruit (Carica papaya)
3 mg
*
Other Ingredients:
Sucrose, Calcium Carbonate, Natural Flavors, Maltodextrin, Corn Starch, Vegetable Stearic Acid, Vegetable Magnesium Stearate.
Directions:
For adults, chew three (3) tablets following a meal, one to three times daily, or dissolve one (1) or two (2) tablets in mouth when needed.
WARNING:
*These statements have not been evaluated by the Food and Drug Administration. This product is not intended to diagnose, treat, cure or prevent any disease.
Keep out of reach of children. If you are pregnant, nursing or taking any medications, or have a medical condition, including a known sensitivity to latex, consult your doctor before use. Discontinue use and consult your doctor is any adverse reactions occur. Store at room temperature.
* Daily Value (DV) not established.
PipingRock's Passion for Quality is Backed by In-house Advanced Analytical Testing
PipingRock guarantees the highest quality because we design, manufacture, and test our supplements in our own state-of-the-art facilities.

Non-GMO Promise
At PipingRock, your health is our #1 priority. Genetically Modified Organisms (GMOs) are present in many dietary supplements, even though they have not yet proven safe for long-term consumption. PipingRock's commitment to bringing you safe, natural, premium-quality ingredients only does not allow for GMO uncertainty.
100% Satisfaction Guaranteed
We stand behind the quality in our products. If you are unhappy with your PipingRock product for any reason we will issue a full refund in accordance to our Return policy.
Original Papaya Enzyme Chewable, 600 Chewable Tablets
41466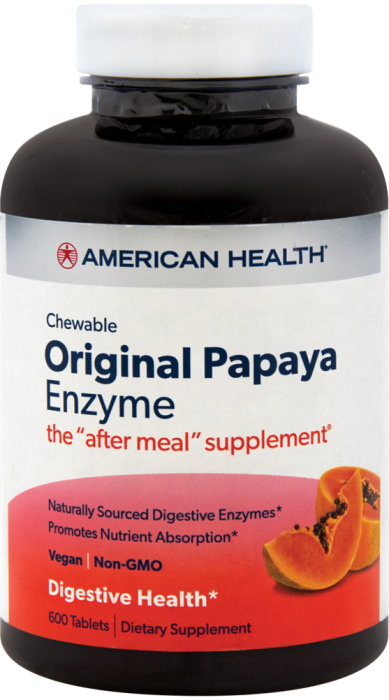 Original Papaya Enzyme Chewable, 600 Chewable Tablets
41466
Size:
1 | 600 Chewable Tablets
- In Stock
Quantity
PipingRock.com
1-7 of 7 customer reviews
TinaD
TinaDTinaD
Jun 11, 2021
Reviews 4
Vote 1
Gender Female
Age 55 to 64
3 after each meal
Eat after every mealEat after every meal
@anonymous
@anonymous@anonymous
Jan 07, 2022
Reviews 1
Nancianne
NancianneNancianne
Nov 23, 2021
Reviews 3
Vote 5
Gender Female
Nostalgic - a simpler time 1956.
Tastes exactly like candy spots on thin long strips of paper ( I used to buy as a child. )Tastes exactly like candy spots on thin long strips of paper ( I used to buy as a child. )
cookiepusher
cookiepushercookiepusher
Aug 20, 2021
Reviews 1
@anonymous
@anonymous@anonymous
Mar 13, 2021
Reviews 14
Pinhead
PinheadPinhead
Feb 05, 2021
Reviews 3
Vote 3
@anonymous
@anonymous@anonymous
Dec 29, 2020
Reviews 4
Vote 3